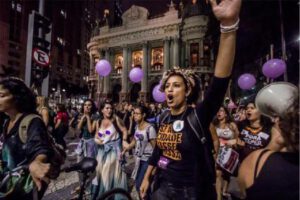 On February 16th, 2018, in Brazil, the government of Michel Temer decreed a Federal Intervention in the State of Rio de Janeiro, transferring the control of security forces to the Military.
Marielle Franco, one of the city councilors of Rio de Janeiro legislature since 2016, was nominated as a member of the local legislative Commission created to monitor the mentioned Federal Intervention. She was the 5th most voted out of 53 candidates in the 2016 municipal elections with 46 thousand votes, as a candidate from the Socialism and Liberty Party (PSOL). Marielle was a self-declared black lesbian woman, born in Favela da Maré (one of the largest favelas in Rio, with around 140 thousand inhabitants), a human rights defender and president of the city's Commission for the Defense of Women.
On March 10th 2018, Marielle publicly voiced concerns by criticizing specific police actions that had resulted in the killing of several young black men and women. It was one of Marielle's actions in the Rio de Janeiro City Council, within a solid background of work in the Human Rights Commission of the Rio de Janeiro State, besides her activism against black people's genocide, violence against women and favelas' militarization.
On March 14th, Marielle and her driver, Anderson Gomes, were shot dead, in what appears to have been a targeted assassination, in the city center shortly after leaving a meeting about black women empowerment.
Marielle's murder terrified the leftist and marginalized sectors of society but did not intimidate more than 100 thousand people from taking to the streets of Rio de Janeiro on the day after, and at least 19 Brazilian States and 13 cities around the world. Marielle represented a threat to the racist, patriarchal, homophobic and classist authoritarian power structures.
Marielle's symbolism highlights the whole context of ongoing political backlash, the criminalization of social movements and the rising number of political leaders being killed recently in the country. According to a report released on last February by Pastoral Land Commission – CPT – and reinforced by International Amnesty, 65 activists identified as human rights defenders and community leaders from different Brazilian regions have been executed in 2017 – most of them grassroots rural leaders in defense of their territories, the commons, and against land and labor exploitation. In 2016, 66 defenders were murdered.
Since 2014, when Brazil hosted the World Cup and there was the announcement of Rio de Janeiro as the host of the Olympic Games, the historical police violence in favelas of Rio´s metropolitan region has seriously increased, with the argument from the State of a "war against drugs and violence". In fact, the only evidence is that most of the people killed in this context are black, impoverished young men and women.
Black and favela´s grassroots movements have been calling this a genocide of the black people of Brazil, in a country where more than 50% of the population is afro-descendent.
The situation got worse in 2016, when the first woman elected as President in Brazil was removed from office by an institutional and political coup. After this attack on democracy, violence in the whole country dramatically increased and, since then, more than 2000 people have been killed as result of police actions in the city of Rio alone. In this sense, we call for international solidarity regarding the situation that the killing of Marielle Franco brings to the fore.
Solidarity Notice
We, the undersigned, manifest our SOLIDARITY to Marielle's and Anderson's family and political comrades, and condemn any attempts to discredit her political legacy. Marielle represents the change that neo-liberal/conservative forces do not want and that we defend and fight for.
We also highlight and manifest our SOLIDARITY with the Coordinator of the Interstate Movement of the "Quebradeiras de Coco Babaçu" (Babaçu Coconut Collectors/Workers) – MIQCB, Francisca Nascimento, after the assassination attempt that she suffered on the weekend of March 4th 2018, in São João do Arraial – Piauí, Brazil. It was an act of violence against a female political leader fighting for free territory in one of the most significant women's movements in Latin America, the movement of the "quebradeiras de coco", women who work as babaçu coconut breakers in Northern and Northeastern Brazil.
We – an international community of academics, social movement leaders, activists, institutions and organizations – claim that the Brazilian State protect Francisca and other prominent women in political struggles facing threats to their lives, especially black, indigenous and other marginalized women. We also call for the protection of Marielle's memory and strongly protest the defamation of her political legacy.
We claim for the end of the black people genocide, the violence against black women, traditional peoples and impoverished communities. We stand against the criminalization of anti-racist, favelados (inhabitants of favelas), feminist, LGBTI and peasant movements. We repudiate all the forces that try to silence these movements.
Our grief for Marielle Franco and our support to Francisca Nascimento represent our commitment to all the women who fight with courage against oppression.
Free Territory NOW!
MARIELLE, PRESENTE! FRANCISCA, VIVA!
Organization/Institution/Movement:
Please, the interested entities should send an email to
conexaomariposas@protonmail.com
Signatures:
KULU – Women and Development, Copenhagen – Denmark
Cooperaxion, Bern – Switzerland
Pinar Omeroglu, civil engineer, Ankara – Turkey
Madalena-Berlin
Free Women's Movement – Turkey
Women in Development+ (WIDE+) – Europe
Allerweltshaus Köln e.V. – Germany
International Women Space, Berlin – Germany
Dziewuchy Dziewuchom Berlin – Germany
Gunes Unsal, member of HDP's (peoples democratic party) Sariyer (Istanbul) district branch board, journalist, interpreter – Turkey
Women's Assembly of the Peoples' Democratic Party (HDP)
Women from Platform of Lawyers for Freedom (ÖHP) –
(özgürlükçü hukukçular platfomu kadın komisyonu)
Green Left Woman of Turkey
AG Trostfrauen in Korea Verband – Germany
Equality Watch Women's Group – Turkey
Mrs. Eylem Tuncaelli -co-chair of the Green and Left Future Party of Turkey
Rheim Alkadhi – Visual Artist/, a woman of color with an international conscience
Günay Demirbaş – Istanbul -Turkey
Aylin Hacaloğlu – member of HDP (for Democratic Party of Peoples) Assembly
Damla Yur – Canada Mount Saint Vincent University Women and Gender Studies MA
Nar Kadın Dayanışması
Adelaide Ivánova – activist
Selin Cagatay – Central European University, Budapest – Hungary
Serpil Kemalbay, Turkey
Zeynep Nilgün Salmaner
Türkan YILDIZ kurdish feminist activist, Jin tv worker (women television) – Turkey
Eliana Ornelas da Silva Ratka
Fernanda Oliveira de Souza
Mendli M. Zuaidi – AFRA – South Africa
Clemeni Chipenda – UNISA – South Africa
Jaclyn Fox – American University – Washington DC – USA
George .T. Mudimu – China Agricultural University – China
Lia Pinheiro Barbosa – Universidade Estadual do Ceará – Brasil
Peter Rosset – ECOSUR – Mexico
Cristián Alarcon – UAHC – Chile and Cornell University – USA
Andreia Nuila – Fian International
Fernando Galeana – Cornell University – USA
Kyla Sankey – Queen Mary University of London – Great Britain
Ben White – International Institute of Social Studies – The Nerthelands
Ian Scoones – STEPS Centre/IDS, Sussex – UK
Jun Borras – International Institute of Social Studies – The Nerthelands
Marc Edelman – Hunter College & Graduate Center, CUNY – USA
Ruth Hall – PLAAS, University of the Western Cape – South Africa
Wendy Wolford – Cornell University – USA
Elyse Mills – International Institute of Social Studies – The Netherlands
Sergio Coronado – FU Berlin – Germany
Amod Shah – International Institute of Social Studies – The Netherlands
Ana Alvarenga de Castro – PhD Candidate – Humboldt University of Berlin – Germany
Camila Nobrega Alves – PhD Student – Free University of Berlin – Germany
Baramee Chaiyarat – La Via Campesina Thailand
Aleh Ivanou – independente researcher Belarus
Ward Berenschot – KITLV – Royal Netherlands Institute of Southeast Asian and Caribbean Studies
Brics Feminist Watch
Justa Hopma – University of Sheffield – UK
Jenny Franco – The Hague – The Netherlands
Kln kln jn – Human Rights Defender – Myanmar
Melissa Mina – ISS, The Hague – The Netherlands
Stephan Backes – FIAN International
Usman Ashraf – ISS, The Hague – The Netherlands
Dupoux Julian – France
Yukari Sekine – ISS, The Hague – The Netherlands
Otieno Ajwang – Nairobi University – Kenya
Behinda Okele – Leiden University – The Nertherlands
Katie Sandmell – Leiden University – The Nertherlands
Lananga Suresh – BITS Hyd – India
Ricardo Barbosa Jr. – University of Calgary – Canada
Fadia Panosetti – ULB – Belgium
Jessica Sched – South Dakota – USA
Dylan Harris – Massachussets – USA
Hashin Rashid – Lahore – Pakistan
Geovanna Lasso – ICTA-UAB – Barcelona and Agroecological Collective of Ecuador
Bianca Capasso – Italy
Katharina Schiller – Gemany/Nicaragua
Denya Jain – India
Sayaka Funasa Classen – Tokyo University of Foreign Studies – Japan
Antonio Roman – Acalá – USA/Japan
Levi Van Sant – USA
Juliana Luiz – IESP/UERJ – Brasil
Junior Research Group " Bioeconomy and Inequalities", Friedrich Schiller University Jena – Germany
---
International Women* Space is a feminist, anti-racist political group in Berlin with refugee and migrant women* and non-migrant women* as members.
All author posts