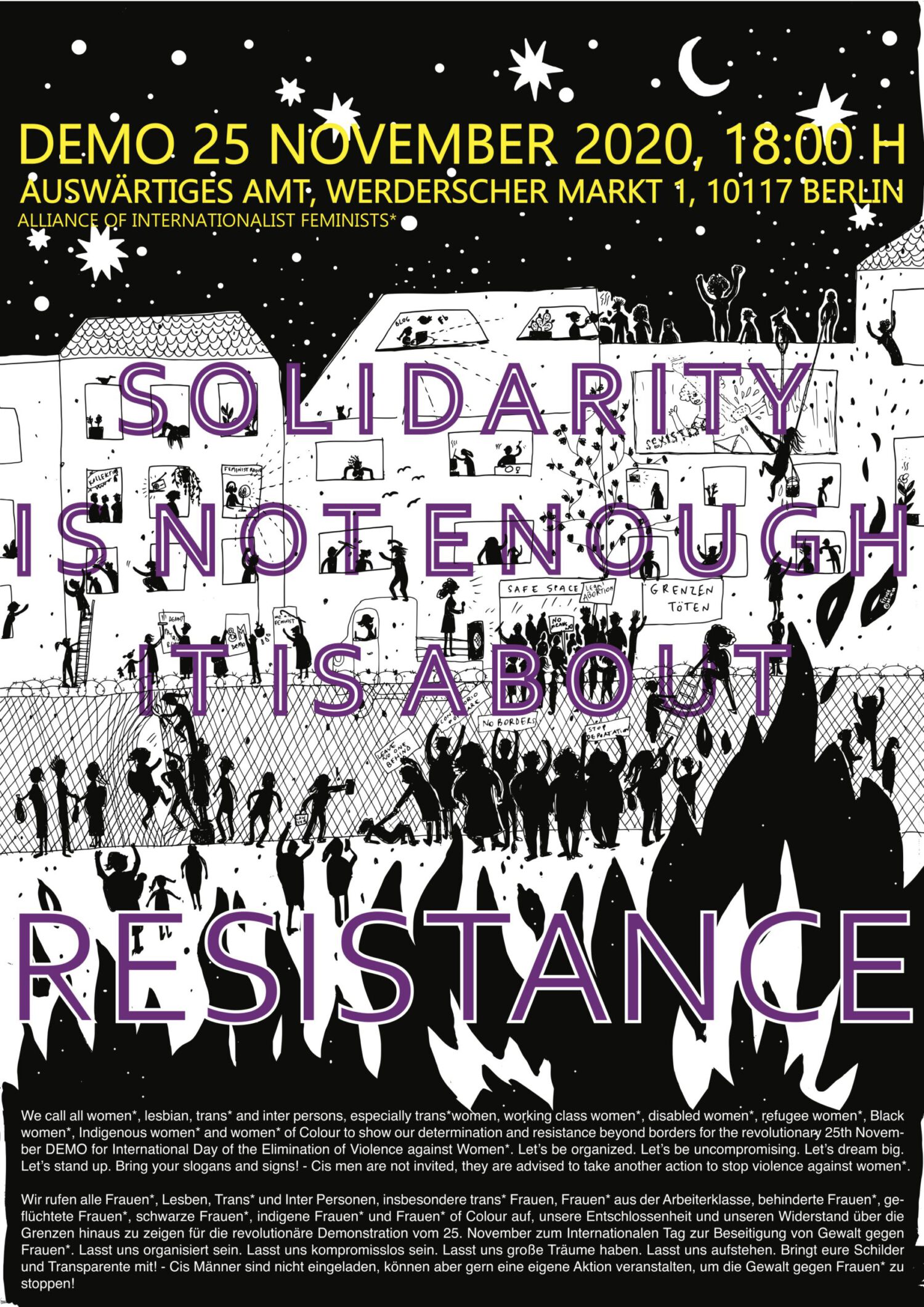 25th November DEMO for International Day of the Elimination of Violence against Women*
SOLIDARITY IS NOT ENOUGH – IT IS ABOUT RESISTANCE
Call to all women*, lesbians, trans* and inter persons
for the revolutionary 25th November DEMO for International Day of the
Elimination of Violence against Women*
When: 25. November, 2020 at 18:00
Where: Auswärtiges Amt, Werderscher Markt 1, 10117 Berlin
All over the world, governments are guided by imperialist agendas that
are destroying the people. These agendas are colonization,
neoliberalism, embargo policies, border regimes, deportation policies,
and extractivism, which robs the resources of the land and the people,
and forces settlements, imposes occupation, and expulsion. People are
fleeing from their homes because of white supremacist destructive politics.
Let's be clear, white supremacy is destroying lives in the name of
human rights with, on the one hand, war and arms industry, and on the other
hand, detention centers and bloody borders.
We believe that women's* struggle, self-organization and self-defense
is our strength in fighting fascism, patriarchy, and racism. We will
continue struggling and defending ourselves against all forms
of structural, political, social and economic violence and injustice.
Sisters* solidarity is not enough. It is about resistance.
Only resistance will put an END to colonial Borders and imperialist Agenda.
Let's be organized.
Let's be uncompromising.
Let's dream big.
Let's stand up.
Our struggle has been there all along and is connecting us around the
whole world. We stand hand in hand, shoulder to shoulder together.
Because the fight of each sister* is the fight of all sisters*.
Another world is possible.
We call all women*, lesbian, trans* and inter persons, especially
trans*women, working class women*, disabled women*, refugee women*,
Black women*, Indigenous women* and women* of Colour to show
our determination and resistance beyond borders.
+Bring your slogans and signs!
++Cis men are not invited, they are advised to take another action to stop violence against women*.
*************
SOLIDARITÄT IST NICHT GENUG – ES GEHT UM WIDERSTAND
Aufruf an alle Frauen*, Lesben, Trans* und Inter Personen
für die revolutionäre Demonstration vom 25. November zum
Internationalen Tag zur Beseitigung von Gewalt gegen Frauen*
Wann: 25. November 2020 um 18:00 Uhr
Wo: Auswärtiges Amt, Werderscher Markt 1, 10117 Berlin
Überall auf der Welt sind Regierungen von imperialistischen Agenden
geleitet, die Menschen zerstören. Diese Agenden sind Kolonisierung, Neoliberalismus,
Embargopolitik, Grenzregime, Abschiebepolitik, und Extraktivismus und
sie rauben Ressourcen von Land und Leuten, zwingen Siedlungen und
Besetzungen auf und verursachen Vertreibung. Menschen fliehen wegen der
destruktiven Politik der weißen Vorherrschaft aus ihrem Zuhause.
Um es klar zu sagen: Weiße Vorherrschaft zerstört Leben im Namen der
Menschenrechte, auf der einen Seite mit der Kriegs- und
Rüstungsindustrie und auf der anderen Seite mit Lagern, Gefängnissen
und blutigen Grenzen.
Wir glauben, dass der Kampf, die Selbstorganisation und die
Selbstverteidigung von Frauen* unsere Stärke im Kampf gegen Faschismus, Patriarchat und Rassismus
sind. Wir werden weiterkämpfen und uns gegen alle Formen der
strukturellen, politischen, sozialen und ökonomischen Gewalt und Ungerechtigkeit verteidigen.
Schwesterliche* Solidarität reicht nicht aus. Es geht um Widerstand.
Nur der Widerstand wird den kolonialen Grenzen und der imperialistischen Agenda ein ENDE setzen.
Lasst uns organisiert sein.
Lasst uns kompromisslos sein.
Lasst uns große Träume haben.
Lasst uns aufstehen.
Unser Kampf ist die ganze Zeit da gewesen und verbindet uns um die ganze
Welt. Wir stehen Hand in Hand, Schulter an Schulter zusammen. Denn der
Kampf jeder Schwester* ist der Kampf aller Schwestern*.
Eine andere Welt ist möglich.
Wir rufen alle Frauen*, Lesben, Trans* und Inter Personen, insbesondere
trans* Frauen, Frauen* aus der Arbeiterklasse, behinderte Frauen*,
geflüchtete Frauen*, schwarze Frauen*, indigene Frauen* und Frauen* of
Colour auf, unsere Entschlossenheit und unseren Widerstand über die
Grenzen hinaus zu zeigen.
+Bringt eure Schilder und Transparente mit!
++ Cis Männer sind nicht eingeladen, können aber gern eine eigene Aktion veranstalten, um
die Gewalt gegen Frauen* zu stoppen!
—