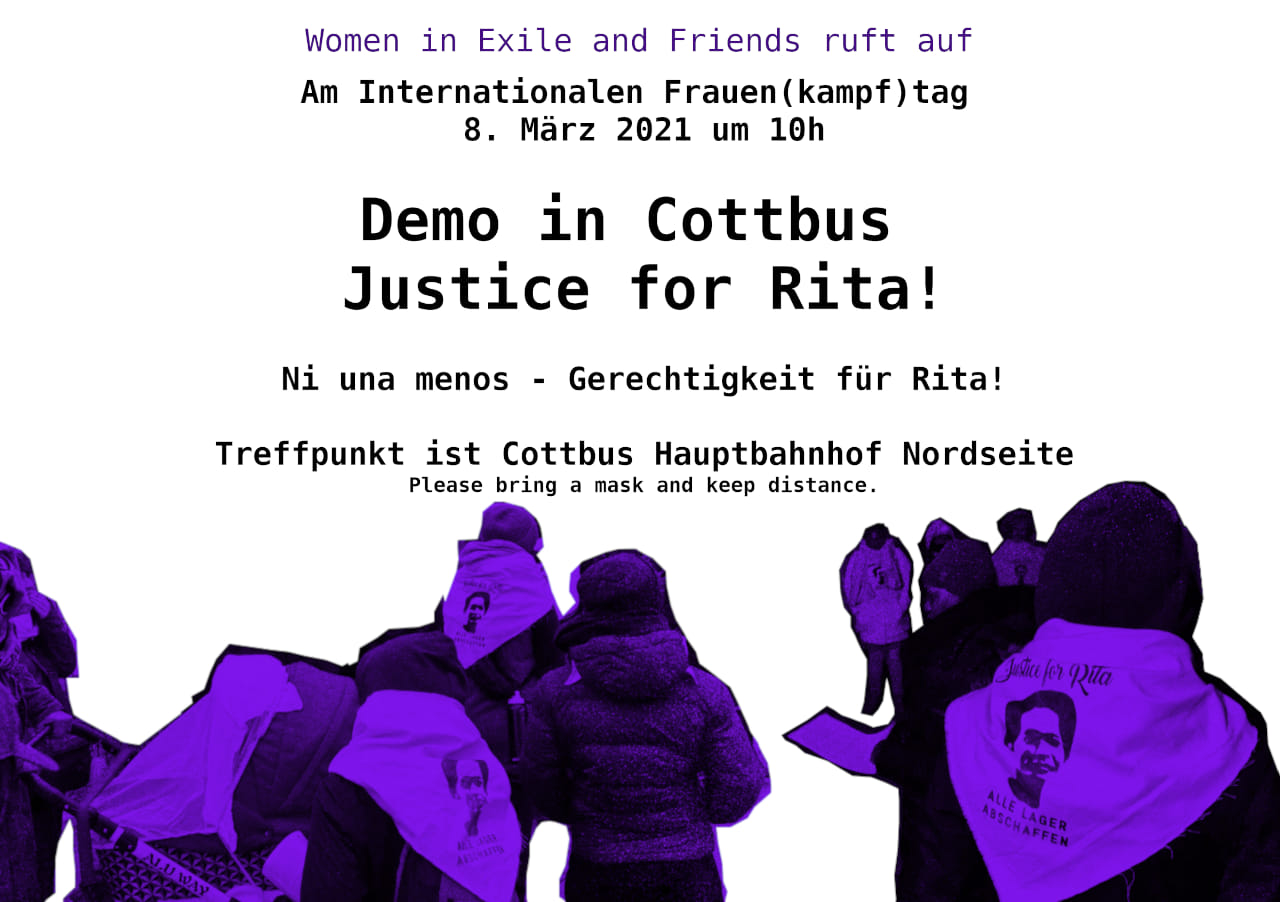 8. März 2021 Demo in Cottbus – Justice for Rita!
Call for our 8th March Action in Cottbus.
On the 7th of April 2019 our sister Rita Ojunge disappeared. Rita was
living with her children in a Lager in Hohenleipisch, Brandenburg. Ritas
family wanted to know what had happened. The refugees living in her
Lager demanded justice for Rita and the closing of the Lager. The Lager
is in very bad condition and absolutely isolated, surrounded by a
forest.
The police was reluctant to search for Ritas whereabouts. Only two
months after Rita had disappeared, the police started to search for her.
They found her remains just 200m away from the Lager, in the forest. The
racist lack of investigation continues. Now, two years after Ritas
murder, the prosecutor's office might close her case and the Lager in
Hohenleipisch is still not abolished.
That is why Women in Exile & Friends are inviting you to join our
antiracist and feminist Demo in Cottbus on the 8th of march, the
international womens day. The meeting point will be Cottbus Hauptbahnhof
Northside at 10am.
Let us commemorate Rita Ojunge and may she rest in perfect peace and
power.
Let us all continue to demand justice, the continuation of the
investigation and the abolishment of all Lager!
We need proper prevention, prosecution and sanctioning of Feminicides.
Refugee womens lives matter!
Lets come together, be many who care and support each other.
—-
DEUTSCH
Am 7. April 2019 verschwand unsere Schwester Rita Ojunge. Rita lebte mit
ihren Kindern in einem Lager in Hohenleipisch, Brandenburg. Ritas
Familie wollte wissen, was passiert war. Die Geflüchteten, die in dem
Lager leben, forderten Gerechtigkeit für Rita und die Schließung des
Lagers. Das Lager ist in einem sehr schlechten Zustand und absolut
isoliert, umgeben von einem Wald.
Die Polizei ließ viel Zeit vergehen, bevor sie Rita suchten. Erst zwei
Monate nachdem Rita verschwunden war, begann die Polizei nach ihr zu
suchen. Sie fanden die Überreste ihrer Leiche nur 200m vom Lager
entfernt im Wald. Die rassistischen Verschleppungen in den Ermittlungen
gehen weiter. Jetzt, zwei Jahre nach Ritas Ermordung, könnte die
Staatsanwaltschaft ihren Fall einstellen und das Lager in Hohenleipisch
ist immer noch nicht abgeschafft.
Deshalb laden Women in Exile & Friends am 8. März, dem internationalen
Frauentag, zu unserer antirassistischen und feministischen Demo in
Cottbus ein. Der Treffpunkt wird am Cottbus Hauptbahnhof Nordseite um
10h sein.
Lasst uns Rita Ojunge gedenken und möge sie in vollkommenem Frieden und
Kraft ruhen.
Lasst uns alle weiterhin Gerechtigkeit, die Fortsetzung der Ermittlungen
und die Abschaffung aller Lager fordern!
Wir brauchen eine angemessene Prävention, Strafverfolgung und
Sanktionierung von Feminiziden. Das Leben geflüchteter Frauen zählt!
Lasst uns zusammenkommen, viele sein und uns gegenseitig unterstützen.
—–
FRENCH
Le 7 avril 2019, notre soeur Rita Ojunge a disparu. Rita vivait avec ses
enfants dans un Lager à Hohenleipisch, Brandenburg. La famille Rita
voulait savoir ce qui s'était passé. Les réfugiés vivant dans le Lager
ont demandé justice pour Rita et la fermeture du Lager. Le Lager est en
très mauvais état et absolument isolée, entourée par une forêt.
La police a laissé passer beaucoup de temps avant de chercher Rita. Deux
mois seulement après la disparition de Rita, la police a commencé à la
rechercher. Ils ont trouvé les restes de son corps à seulement 200m de
la Lager, dans la forêt. Le manque d'enquête, qui est raciste se
poursuit. Aujourd'hui, deux ans après le meurtre de Rita, le bureau du
procureur pourrait clore son dossier et le Lager à Hohenleipisch n'est
toujours pas abolie.
C'est pourquoi Women in Exile & Friends vous invite à vous joindre à
notre manifestation antiraciste et féministe à Cottbus le 8 mars,
journée internationale de la femme. Le point de rencontre sera Cottbus
Hauptbahnof coté nord à 10h.
Commémorons Rita Ojunge, qu'elle repose en paix et en puissance.
Continuons tous à réclamer la justice, la poursuite de l'enquête et
l'abolition de toutes les Lager !
Nous devons prévenir, poursuivre et sanctionner les féminicides de
manière appropriée. La vie des femmes réfugiées est importante!
Rassemblons-nous, soyons nombreuses et à soutenons nous les unes les
autres.
Next Event
Date

28 Apr 2023

- 10 Oct 2023

Time

All Day