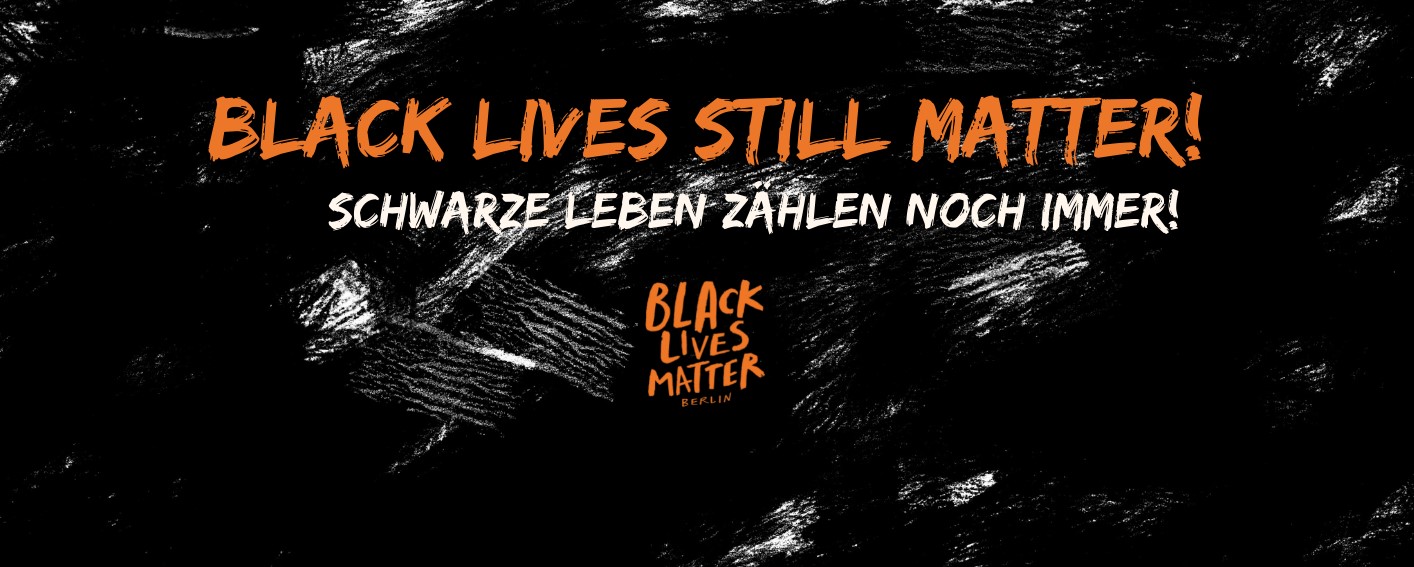 Black Lives Matter Berlin Protest 2021
For many, Black Lives Matter remains a one-time sensation from 2020. But we all know, Black people have been fighting for their recognition, dignity and their rights for decades, in Germany and all over the world. Every year since 2016, Black Lives Matter Berlin, under the motto "All Black Lives Matter," lets diverse Black voices have their say, make them heard, and connect them with each other. The focus of our organizing remains the intersectional recognition of Black diversity, as well as the resulting political demands. This year is no different! BLACK LIVES STILL MATTER! We stay loud and take to the streets for our rights!
The protest will start at 3:30pm at Pariser Platz near the Brandenburg Gate and will end at 10pm at Spreewaldplatz at the latest. With stops at Pariser Platz (Brandenburg Gate), Zietenplatz (M*Straße), Oranienplatz and Spreewaldplatz in Kreuzberg, we want to mark the protest march with a total of four rally locations.
3:30 pm: Pariser Platz (Brandenburg Gate)
approx. 5 pm: Zietenplatz (M*Straße)
approx. 7 pm: Oranienplatz
approx. 8:30 pm: Spreewaldplatz
There will be different speeches and performances at each location along the march. So even if you can't be there from start to finish, join us as soon as possible!
There will be speeches on topics including "Black History in Germany," "Climate Justice," "Blackness in Healthcare," "Black Sex Workers' Rights," "Black Trans Lives," "Black Refugees," and "Black Art."
We will also be joined by a variety of artists and DJ*anes!
More info on blacklivesmatterberlin.de
—
Für viele bleibt Black Lives Matter eine einmalige Sensation des letzten Jahres. Doch wir alle wissen, Schwarze Menschen kämpfen schon seit Jahrzehnten für ihre Anerkennung und ihre Rechte, in Deutschland und überall auf der Welt. Unter dem Motto "All Black Lives Matter" lässt Black Lives Matter Berlin seit 2016 jährlich verschiedene Schwarze Stimmen zu Wort kommen, verschafft ihnen Gehör und vernetzt sie miteinander. Die intersektionale Anerkennung Schwarzer Vielfalt, sowie die daraus resultierenden politischen Forderungen stehen dabei im Vordergrund unserer Arbeit. So auch in diesem Jahr! BLACK LIVES STILL MATTER! Wir bleiben laut und gehen für unsere Rechte auf die Straße!
Die Demo beginnt 15:30 Uhr auf dem Pariser Platz beim Brandenburger Tor und endet spätestens 22 Uhr auf dem Spreewaldplatz. Mit Stopps am Pariser Platz (Brandenburger Tor), am Zietenplatz (M*Straße), am Oranienplatz und am Spreewaldplatz in Kreuzberg, wollen wir den Protestmarsch durch insgesamt vier Kundgebungsorte kennzeichnen.
15:30 Uhr: Pariser Platz (Brandenburger Tor)
ca. 17 Uhr: Zietenplatz (M*Straße)
ca. 19 Uhr: Oranienplatz
ca. 20:30 Uhr: Spreewaldplatz
An jedem Standort entlang des Protestmarschs wird es unterschiedliche Reden und Performances geben. Auch wenn ihr also nicht von Anfang bis Ende dabei sein könnt, kommt sobald wie möglich dazu!
Es wird unter anderem Redebeiträge zu den Themen "Schwarze Geschichte in Deutschland", "Klimagerechtigkeit", "Schwarzsein im Gesundheitswesen", "Black Sex Workers' Rights", "Black Trans Lives", "Schwarze Geflüchtete" und "Black Art" geben.
Außerdem werden uns verschiedenste Künstler*innen und DJ*anes begleiten!
Weitere Infos auf blacklivesmatterberlin.de
Next Event
Date

28 Apr 2023

- 10 Oct 2023

Time

All Day