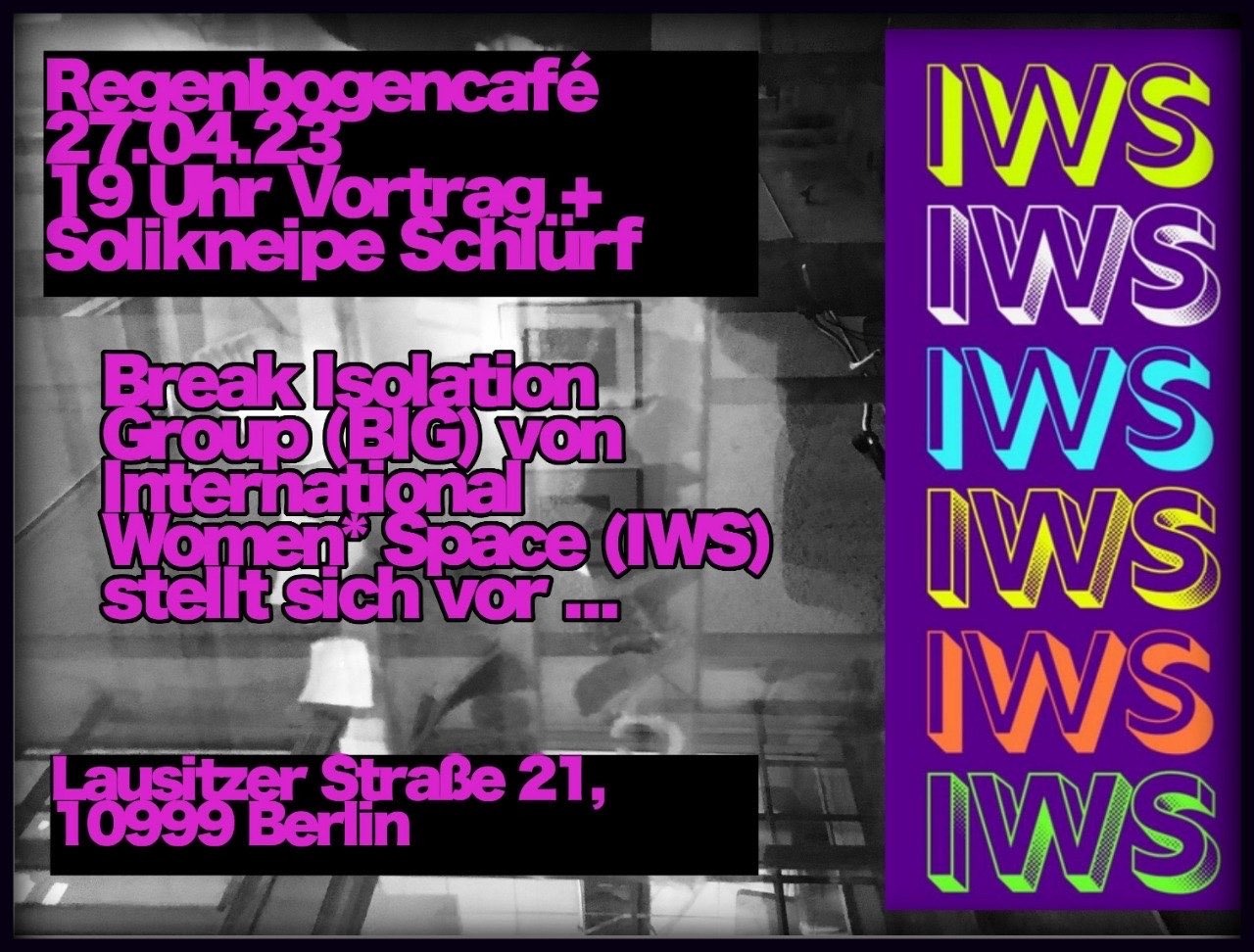 Break Isolation Group im Regenbogencafé: Vortrag + Schlürf-Solikneipe
Berliner Initiativen stellen sich vor // Vortrag – Austausch – Diskussion + Solikneipe Schlürf
Die Break Isolation Group (BIG) von International Women* Space (IWS), eine selbstorganisierte Gruppe nur für geflüchtete Frauen*, zielt darauf ab, Kapazitäten von Frauen* aufzubauen und sie durch Workshops, Peer-to-Peer-Aktivitäten und Lagerbesuche zu befähigen, sich im Asylsystem zurechtzufinden: "Durch Lager-Audioberichte von Frauen* schaffen wir eine Plattform und bauen unsere Fähigkeit auf, mit unserer eigenen Stimme zu sprechen, uns frei auszudrücken, für uns und über uns, und andere anzuprangern, die in unserem Namen und ohne uns über uns sprechen. Unser Ziel ist es, den Kreis der Isolation zu durchbrechen und einen sicheren Raum für uns zu schaffen und unsere eigene Gemeinschaft aufzubauen. Wir sind eine Frontgruppe, die einen Peer-to-Peer-Empowerment-Ansatz umsetzt, der durch einen Multiplikatoreffekt verstärkt wird und sich an strengen Bottom-up-Prinzipien orientiert.
Wir verurteilen jede Form von Unterdrückung, Gewalt, Diskriminierung oder Einschüchterung und kämpfen für unsere Rechte inmitten der starren und unterdrückerischen Asylstrukturen, -verfahren und -systeme."
—
The Break Isolation Group (BIG) from International Women* Space (IWS), a self organized refugee women* only group aims at building the capacity of the women* and empower them to navigate through the Asylum system through workshops, peer to peer empowerment activities and Lager visits.:  "As women*, we create a platform and build our capacity to speak in our own voices, express ourselves freely, for us and about us and denounce others speaking about us on our behalf and without us through the Lager audio reports. We aim at breaking the circle of isolation and create a safe space for us and build our own community.
We are a front line group implementing a peer to peer empowerment approach that is enhanced by a multiplier effect guided by strict bottom up principles.
We condemn any form of oppression, violence, discrimination or intimidation while fighting and advocating for our rights amid the rigid and oppressive asylum structures, processes and systems."