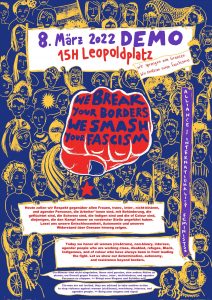 CALL: 8M 2022 Demo – Alliance of Internationalist Feminists
We break your borders, we smash your fascism!
********************english********************
WE BREAK YOUR BORDERS – WE SMASH YOUR FASCISM
We are calling for an internationalist 8th of March – to join forces in a common fight against the oppressions caused white supremacy. Internationalist solidarity means that our struggles are connecting us around the World. We are everwhere, We are resisting: in every street, in every occupied land, in the mountain, on the sea, at the border, in Working places, at home, in the lager, and inside prisons. Oppression has a thousand faces and we do not accept any of them. We will continue fighting and defending ourselves against all forms of structural, political, social, and economic violence and injustice. That is why they are afraid of us and use all kinds of repression against us. So be afraid, because we are not backing down!
We are loud, we are clear:
Our resistance will break your borders and will smash your fascism.
White supremacist imperialism is destroying lives, using the pretense of "human rights" to legitimize war, occupations, detention centers, and blood-drenched borders. People at the EU borders are criminalized, imprisoned, and dehumanized by EU-funded border police and fascist paramilitary forces. Their pushbacks kill people. These are illegal crimes against humanity committed by EU governments. It is not the people at the borders who are the threat, it is the lies and illegal crimes of the governments that threaten our societies.
There is them, and there is us.
They export arms, fund wars, and bloodshed. They create crises that they greatly profit from.
They want us to believe that the reason they kill and exploit us is to save us.
They have borders, but we have resistance.
Enough of exploiting our bodies, our lands, and our resources!
Enough of killing us on the borders, in the sea, and on the land!
Enough with the femicides!
Enough of patriarchal impunity!
We, the Alliance of Internationalist Feminists, know that self-organization and self-defense are our indestructible strength in fighting against imperialism, fascism, capitalism, patriarchy, and Zhite supremacy. Only an internationalist resistance will put an END to colonial borders and imperialist agendas.
Let's be organized. Let's be uncompromising Let's dream big Let's stand up.
March 8, 2022, 3pm Leopoldplatz
+ Cis men are not invited. They are advised to organize their own actions in solidarity.
++ Bring your slogans and signs!
********************german********************
WIR SPRENGEN EURE GRENZEN – WIR ZERSTÖREN EUREN FASCHISMUS
Wir rufen zu einem internationalistischen 8. März auf – für einen gemeinsamen Kampf gegen die Unterdrückung durch die weiße Vorherrschaft. Internationalistische Solidarität bedeutet, dass unsere Kämpfe uns überall auf der Welt miteinander verbinden. Wir sind überall, wir leisten Widerstand: auf der Straße, in jedem besetzten Land, in den Bergen, auf dem Meer, an der Grenze, an den Arbeitsplätzen, zu Hause, in den Lagern und in den Gefängnissen. Die Unterdrückung hat tausend Gesichter und wir akzeptieren keines davon. Wir werden weiterkämpfen und uns gegen alle Formen der strukturellen, politischen, sozialen und wirtschaftlichen Gewalt und Ungerechtigkeit verteidigen. Deshalb haben sie Angst vor uns und setzen alle Arten von Repression gegen uns ein. Habt also Angst, denn wir werden nicht zurückweichen!
Wir sind laut, wir sind klar:
Unser Widerstand wird eure Grenzen sprengen und euren Faschismus zerstören.
Der Imperialismus der weißen Vorherrschaft zerstört Leben und benutzt den Vorwand der "Menschenrechte" um Krieg, Besatzungen, Lager und blutige Grenzen zu legitimieren. Menschen an den EU-Grenzen werden von der EU-finanzierten Grenzpolizei und faschistischen Paramilitärs kriminalisiert, inhaftiert und entmenschlicht. Ihre Pushbacks töten Menschen. Dies sind illegale Verbrechen gegen die Menschlichkeit, begangen von EU-Regierungen. Die Bedrohung sind nicht die Menschen an den Grenzen, es sind die Lügen und illegalen Verbrechen der Regierungen, die unsere Gesellschaften bedrohen.
Es gibt sie, und es gibt uns.
Sie exportieren Waffen, finanzieren Kriege und Blutvergiessen.
Sie schaffen Krisen, von denen sie stark profitieren.
Sie wollen uns glauben lassen, dass sie uns nur töten und ausbeuten, um uns zu retten.
Sie haben Grenzen, aber wir haben Widerstand.
Genug der Ausbeutung unserer Körper, unseres Landes und unserer Ressourcen!
Genug davon, uns an den Grenzen, im Meer und auf dem Land zu töten!
Genug mit den Femiziden!
Genug der patriarchalen Straflosigkeit!
Wir, das Bündnis Internationalistischer Feminist*innen Berlin, wissen, dass Selbstorganisation und Selbstverteidigung unsere unverwüstliche Kraft im Kampf gegen Imperialismus, Faschismus, Kapitalismus, Patriarchat und weiße Vorherrschaft sind. Nur ein internationalistischer Widerstand wird den kolonialen Grenzen und imperialistischen Agenden ein ENDE setzen.
Lasst uns organisiert sein. Lasst uns kompromisslos sein. Lasst uns groß träumen.
Lasst uns aufstehen.
8. März 2022, 15 Uhr Leopoldplatz
+Cis-Männer sind nicht eingeladen, ihnen wird geraten, eine andere Aktion zu planen, um patriarchale Gewalt zu stoppen.
++ Bringt eure Slogans und Schilder mit!
Other languages
Find other languages in the pdf (Farsi, Kurdish, Arabic, French, Spanish, Italian, Turkish, Vietnamese, Tigrinya, English, German)
Call8M2022_AllianceIntFem_LanguagesSmall
Next Event
Date

28 Apr 2023

- 10 Oct 2023

Time

All Day