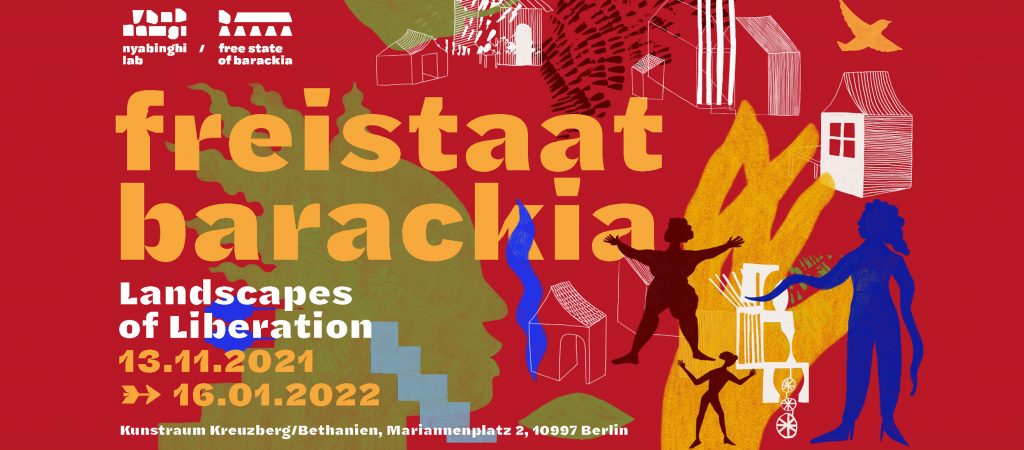 Freistaat Barackia: Landscapes of Liberation
– Deutsch unten ↓ –
Opening: Friday, November 12, 2021
Artistic direction: Nyabinghi Lab (Nathalie Anguezomo Mba Bikoro, Tmnit Zere, Saskia Köbschall)
Artists: Bintou Dembélé, Pinar Ögrenči, Mansour Ciss Kanakassy, Van Bo Le-Mentzel, Fetewei Tarekegn, Elsa M'bala, Claude Gomis, Diana Ejaita, Nassan Tur, Maya Quilolo, MIMIMI-space, DaGeG, Oussama Tabti and many more
This exhibition takes the history of Barackia (1870-1872), an independent free state founded over 150 years ago by migrant workers and disenfranchised urban dwellers in Kreuzberg, as a starting point to explore decolonial urbanism, resistance and solidarities. How are demands of equality interrelated with self-determined spaces in the past and present? How do free communities become laboratories for creative and visionary forms of collectivity? How can urban dwellings be designed in solidarity and equity? Barackia's seemingly local history is being intertwined with movements and self-determined spaces across five centuries in Berlin and beyond: The exhibition draws a connection between landscapes of liberation from Barackia to Weeksville (Brooklyn), from Congo Square (Louisiana) to Kalakuta Republic (Lagos), from Oranienplatz (Berlin) to the Quilombos dos Palmares (Brazil).
Supported by the Hauptstadtkulturfonds
—
Eröffnung: Freitag, 12. November 2021
Künstlerische Leitung: Nyabinghi Lab (Nathalie Anguezomo Mba Bikoro, Tmnit Zere, Saskia Köbschall)
KünstlerInnen: Bintou Dembélé, Pinar Ögrenči, Mansour Ciss Kanakassy, Van Bo Le-Mentzel, Fetewei Tarekegn, Elsa M'bala, Claude Gomis, Diana Ejaita, Nassan Tur, Maya Quilolo, MIMIMI-space, Pascale Obolo, Oussama Tabti und viele mehr
Die Ausstellung Freistaat Barackia: Landschaften der Befreiung erkundet dekolonialen Urbanismus, Widerstand und Solidarität aus der Perspektive der Geschichte von Barackia (1870-1872), einem unabhängigen Freistaat, der vor über 150 Jahren von Wanderarbeiter*innen und entrechteten Stadtbewohner*innen in Kreuzberg gegründet wurde. Wie sind Forderungen nach Gleichheit mit selbstbestimmten Räumen in Vergangenheit und Gegenwart verknüpft? Wie werden freie Gemeinschaften zu Laboratorien für kreative und visionäre Formen der Kollektivität? Wie können urbane Räume solidarisch und gerecht gestaltet werden? ​Die scheinbar lokale Geschichte von Barackia wird mit Bewegungen und selbstbestimmten Räumen aus fünf Jahrhunderten in Berlin und darüber hinaus verwoben: Die Ausstellung spannt einen Bogen zwischen Landschaften der Befreiung von Barackia bis Weeksville (Brooklyn), vom Congo Square (Louisiana) bis zur Kalakuta Republic (Lagos), vom Oranienplatz (Berlin) bis zu den Quilombos dos Palmares (Brasilien).
Unterstützt durch den Hauptstadtkulturfonds