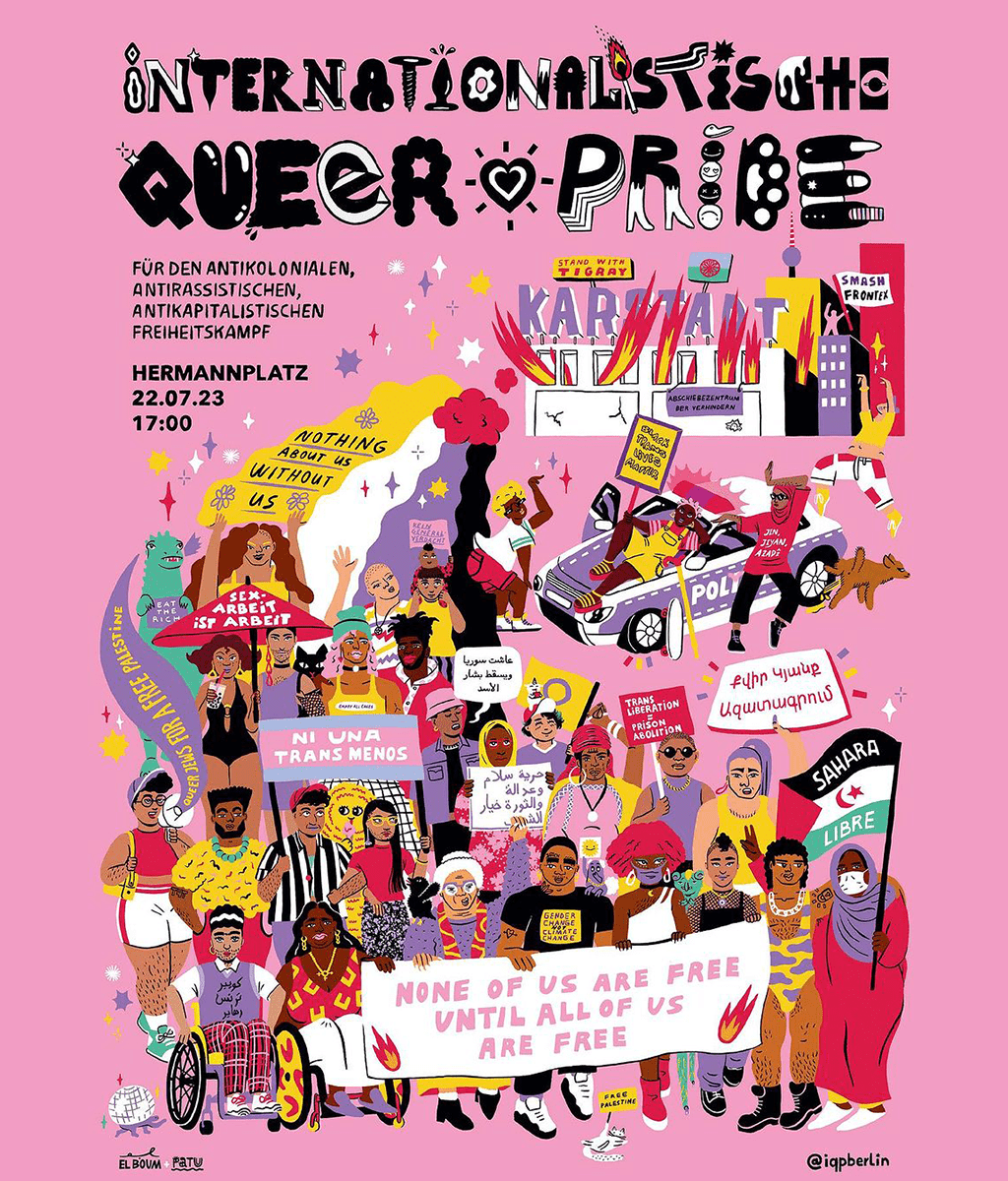 Internationalist Queer Pride 2023
Deutscher Text unten
The Internationalist Queer Pride for Liberation 2023
We invite you to join us in the second annual Internationalist Queer Pride for Liberation on the 22rd of July 2023 at 5 PM at Hermanplatz — a revolutionary, queer-led protest that reclaims our voices and reasserts our presence in Berlin. We comprise a network of queer groups, queer individuals, and the queer representatives of Berlin's radical political collectives, all coming together to celebrate our existence and to demonstrate our ongoing resistance.
Coming from different experiences and perspectives, we are bonded by our shared struggle for a revolutionary world where all of us can live free from all levels of systemic oppression and discrimination: a world where our sexualities are freely expressed and explored; our identities are self-determined and are not traded in neoliberal markets, nor exploited to abet homonationalist politics. We come together to fight for a world where our bodies — and all bodies — are free to be, free to choose, and free to move. A world where there are no national borders, no weapons, no cops, and no wars. We strive for a world where access to resources is not a privilege but a fundamental right for everyone. A world where our societies stop living at the expense of other living beings and the planet.
Queer liberation can only be achieved through dismantling the systemic oppressions upon which our societies are built. We live queerness as rooted in our revolutionary politics: a rebellious existence that challenges the violence of the gender binary, normative body and sexual politics, pervasive ableism, colonial and imperial hegemonies, the criminalization of sex workers, the constant attacks on migrant lives, exploitation and precarity, sexism, transmisogyny and trans/misogynoir, and inherent and structural racism. In our radical queerness, we oppose the concentration of power and wealth in the hands of the very few who continue to profit from centuries of exploitation, genocides, stolen lands, plundered resources, wars, and colonialism. Through our queerness, we imagine and redefine alternative ways of being, of living, of assembly and of organising. In the face of warfare, pestilence, and fascism, we stand firm in our determination to survive and thrive, united in revolutionary love and solidarity. We stand defiant and together! "None of us is free until all of us are free!"
Join us on this day of protest in celebration and affirmation of our inextricably connected struggles: a day of coming together to reclaim the streets, to rally the drumming of thousands of heartbeats, striking fear into the very foundations of this system.
______________________
Internationalistische Queer Pride 2023
Wir laden euch zur zweiten jährlichen Internationalistischen Queer Pride am 22. Juli 2023 um 17 Uhr am Hermanplatz – ein revolutionärer, queer-geführter Protest, der unsere Stimmen zurückfordert und unsere Präsenz in Berlin wiederherstellt. Wir sind ein Netzwerk aus queeren Gruppen, queeren Individuen und den queeren Vertreter:innen radikaler politischer Kollektive Berlins, die alle zusammenkommen, um unsere Existenz zu feiern und unseren anhaltenden Widerstand zu demonstrieren.
Wir haben unterschiedliche Erfahrungen und Perspektiven und uns verbindet der gemeinsame Kampf für eine revolutionäre Welt, in der wir alle frei von systemischer Unterdrückung und Diskriminierung leben können: eine Welt, in der wir unsere Sexualität frei ausdrücken und erfahren können; in der unsere Identitäten selbstbestimmt sind und weder auf neoliberalen Märkten gehandelt noch für homonationalistische Politiken ausgenutzt werden. Wir kommen zusammen, um für eine Welt zu kämpfen, in der unsere Körper – und alle Körper – frei sind frei zu sein, frei Entscheidungen zu treffen und sich frei zu bewegen. Eine Welt, in der es keine nationalen Grenzen, keine Waffen, keine Polizei und keine Kriege gibt. Wir streben eine Welt an, in der der Zugang zu Ressourcen kein Privileg, sondern ein Grundrecht für alle ist. Eine Welt, in der unsere Gesellschaften aufhören, auf Kosten anderer Lebewesen und des Planeten zu leben.
Queere Befreiung kann nur durch den Abbau der systemischen Unterdrückung erreicht werden, auf der unsere Gesellschaften aufgebaut sind. Wir leben Queerness als Wurzel unserer revolutionären Politik: eine rebellische Existenz, die die Gewalt des Geschlechterbinärs, normative Körper- und Sexualpolitiken, allgegenwärtiger Ableismus, koloniale und imperiale Hegemonien, die Kriminalisierung von Sexarbeiter:innen, die ständigen Angriffe auf das Leben von Migrant:innen, Ausbeutung und Prekarität, Sexismus, Transmisogynie und trans/misogynoir, sowie systemeigenen und strukturellen Rassismus herausfordert. In unserer radikalen Queerness wenden wir uns gegen die Konzentration von Macht und Reichtum in den Händen einiger weniger, die weiterhin von jahrhundertelanger Ausbeutung, Völkermorden, gestohlenem Land, geplünderten Ressourcen, Kriegen und Kolonialismus profitieren. Durch unsere Queerness stellen wir uns alternative Formen des Seins, des Lebens, der Versammlung und der Organisierung vor und definieren sie neu. Angesichts von Krieg, Pestilenz und Faschismus sind wir fest entschlossen zu überleben und zu gedeihen, vereint in revolutionärer Liebe und Solidarität. Wir stehen trotzig und stehen zusammen! "Keine:r von uns ist frei, bis wir alle frei sind!"
Macht mit bei diesem Protesttag, um unsere untrennbar miteinander verbundenen Kämpfe zu feiern und zu bekräftigen: ein Tag, an dem wir zusammenkommen, um die Straßen zurückzuerobern, um das Trommeln tausender Herzschläge zu versammeln und das Fundament dieses Systems in Angst und Schrecken zu versetzen.
Next Event
Date

28 Apr 2023

- 10 Oct 2023

Time

All Day