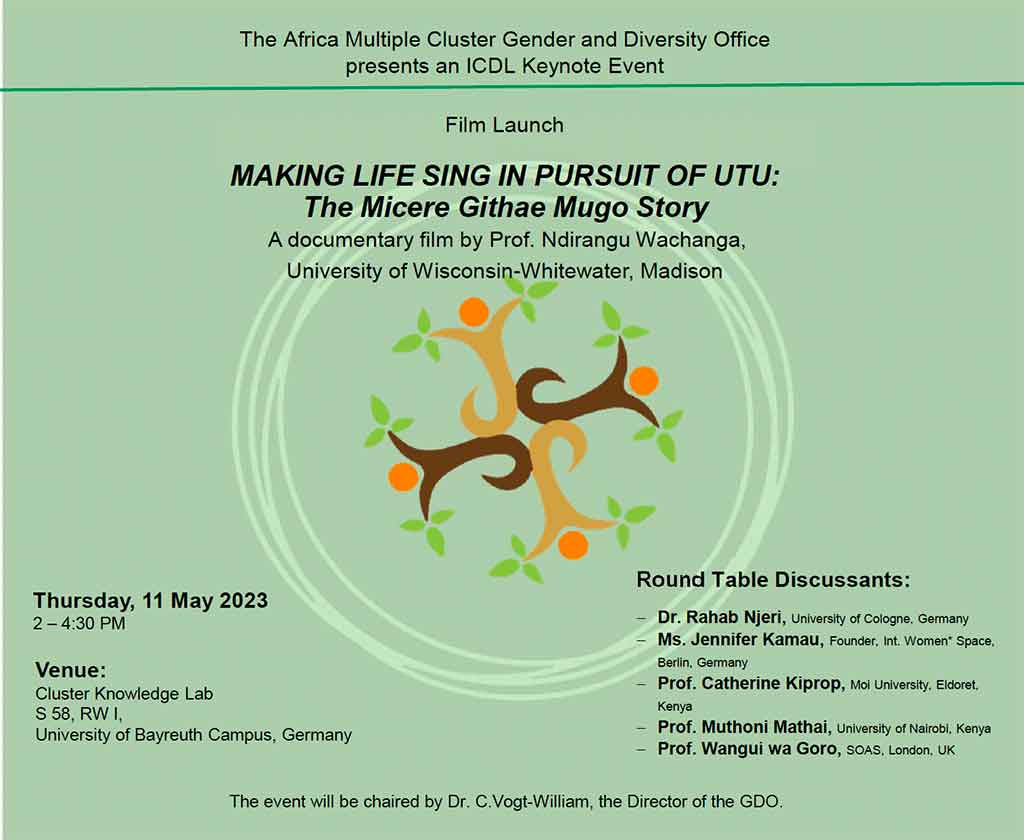 ICDL Keynote event: Film Launch | MAKING LIFE SING IN PURSUIT OF UTU
GDO presents the ICDL Keynote Event: Film Launch: MAKING LIFE SING IN PURSUIT OF UTU: The Micere Githae Mugo Story
A documentary film by Prof. Ndirangu Wachanga, University of Wisconsin-Whitewater, Madison
THIS IS A HYBRID EVENT.
Venue: S58, RW I, University of Bayreuth Campus, Germany
Zoom (Please click here for the link) Meeting ID: 683 9613 0569, Passcode: 897688
Date: Thursday, 11 May 2023
Time: 2- 4:30 pm
Round Table Discussants:
Dr. Rahab Njeri, University of Cologne, Germany
Ms. Jennifer Kamau, Founder, Int. Women* Space, Berlin, Germany
Prof. Catherine Kiprop, Moi University, Eldoret, Kenya
Prof. Muthoni Mathai, University of Nairobi, Kenya
Prof. Wangui wa Goro, SOAS, London, UK
Film Synopsis: Making Life Sing traces the rich life and immense contributions of Micere Githae Mugo. Born in a time of war in colonial Kenya, Micere not only came of age in the era of Africa's independence in the 1960s, but also witnessed the disillusionment that came with political independence. Rising to become the first woman dean in an African university, Micere was instrumental in decolonizing the curriculum and in centering orature as an integral site of knowledge production. This film uses the biography of Micere Githae Mugo to demonstrate her role as a herstory maker and herstory carrier in the complex process of becoming of her country. This film screening and subsequent Round Table conversation are in celebration of Prof. Mugo's 80th birthday.
GUEST SPEAKER, ICDL LECTURE SERIES: Prof. Ndirangu Wachanga Media Studies and Information Science, University of Wisconsin-Whitewater, Madison, Wisconsin, USA
Ndirangu Wachanga is the authorized documentary biographer of Prof. Wole Soyinka, Prof. Ali A. Mazrui, Prof. Ngugi wa Thiong'o, and Prof. Micere Mugo. His documentary projects seek to preserve East African memory by capturing raw voices using visual and audio technology.
Prof. Wachanga's recent publication is a collection of essays in honor of Prof. Micere Githae Mugo, titled Making Life Sing in Pursuit of Utu. He published Growing up in a Shrinking World: How Politics, Culture and the Nuclear Age Defined the Biography of Ali A. Mazrui in 2017. His coedited volume with Simon Gikandi, Ngugi: Reflections on a Life of Writing, is forthcoming. His documentary, Ali Mazrui: A Walking Triple Heritage, won the 2015 New York African Studies Book Award.
His academic work has appeared in peer reviewed journals such as the Journal of Mass Media Ethics, the Journal of African Media Studies, the South African Journal for Communication Theory and Research, and African Communication Research. Wachanga has written for media in different continents. His journalistic work has appeared in the Daily Nation, East African Standard, Business Daily, North Texas Daily, British Broadcasting Corporation and Voice of America.
His research interests include
– memory, global media and information ethics;
– the intersections of media formations and social, political, economic and cultural practices;
– communication technologies and the contemporary digital Diaspora.
He is currently working on a monograph on non-Western approaches for analyzing ethical dilemmas in participatory journalism, popular culture and social media.
—
The event will be chaired by Dr. C.Vogt-William, the Director of the GDO