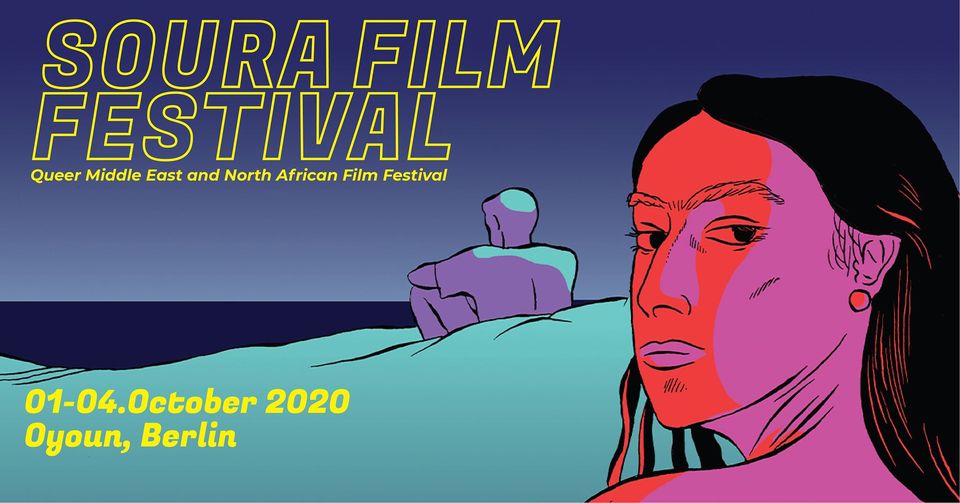 Soura Film Festival | 2nd Edition
After months of hard work, we're very excited to finally share with you our 2nd Edition of Soura Film Festival, taking place from October 1st till October 4th at Oyoun.
This year, we are reflecting on the true meaning of pride and what it means for us as a Queer Film Festival which focuses on the Middle East & North African region, and the importance of normalizing diversity and queer inclusion in cinema.
Our selection this year includes quite an array of feature and short films with a fresh and modern look on queerness in the region, ranging from pressing issues to long-standing traditions.
A special section in collaboration with XPOSED Film Festival is also part of our program. Moreover, part of film and queer culture is embracing tradition and remembering our history in order to move forward in the right direction, so we're proud to add a Retrospective section this year which includes some understated classics.
In addition to films from Lebanon, Tunisia, Jordan, Iran, Morocco, Israel, Egypt, Sudan, Afghanistan and Azerbaijan, we are happy to include efforts by Turkish filmmakers this edition, given Turkish cinema's pivotal contribution to the film industry.
////////////////////PROGRAM////////////////////
FEATURE FILMS
– 'Futur Drei' (2020 ) by Faraz Shariat
92 min – Fiction – Germany
German, Farsi, Arabic [Eng sub]
OPENING FILM / October 1st – 19:00
– 'Birds of the Borderlands' (2019 ) by Jordan Bryon
90 min – Documentary – Australia
Arabic, English [Eng sub]
October 2nd – 19:00
– 'Reborn (Love Trilogy)' (2019) by Yaron Shani
108 min – Fiction – Israel, Germany
Hebrew [Eng sub]
October 2nd – 21:30
– 'Meanwhile in Beirut' (2020) by Felipe Monroy
50 min – Documentary – Lebanon, Switzerland
English, Arabic [Eng sub]
October 3rd – 22:00
– 'Tlamess' (2019) by Ala Eddine Slim
120 min – Fiction – Tunisia, France
Arabic [Eng sub]
CLOSING FILM / October 4th – 21:00
SHORT FILM PROGRAM 1
– 'The Last Paradise' (2019) by Sido Lansari
14 min – Docu-Fiction – Morocco, France
French [Eng sub]
October 1st – 21:30
– 'ÌZ' (2019) by Salih Salman
9 min – Fiction – Turkey
[No Dialogue]
October 1st – 21:30
– 'Our Way Back' (2018) by Moshe Rosenthal
26 min – Fiction – Israel
Hebrew [Eng sub]
October 1st – 21:30
– 'All Monsters Are Human' (2019) by Hugh Davies & Helen Spooner
21 min – Documentary / Animation – Azerbaijan, UK
Azerbaijani [Eng sub]
October 1st – 21:30
– 'A Short Film About: Modern Love' (2020) by Omar Abo
4 min – Fiction – Egypt
Arabic [Eng sub]
October 1st – 21:30
SHORT FILM PROGRAM 2
– 'Rupture Divine' (2019) by Malak Mroue
20 min – Fiction – Lebanon
Arabic, French [Eng sub]
October 2nd – 17:00
– 'Queens' (2020) by Youssef Youssef
29 min – Docu-Fiction – Switzerland
French, English [Eng sub]
October 2nd – 17:00
– 'Hide & Seek' (2016) by Mark Karam
8 min – Fiction – Lebanon
Arabic [Eng sub]
October 2nd – 17:00
– 'The Art of Being a Sinner' (2017) by Ibrahim Mursal
20 min – Documentary – Sudan, Norway
Arabic, Norwegian [Eng sub]
October 2nd – 17:00
SHORT FILM PROGRAM 3
– 'What's Left of Home' (2019) by Antoine Maksoudian
17 min – Fiction – Lebanon
Arabic [Eng sub]
October 3rd – 17:00
– 'Reset' (2019) by Ali Shams
16 min – Fiction – Iran
Farsi [Eng sub]
October 3rd – 17:00
– 'Ayaneh' (2019) by Nicolas Greinacher
14 min – Fiction – Switzerland
Dari, English, Swiss German [Eng sub]
October 3rd – 17:00
– 'The Guest' (2017) by Hakim Mastour
19 min – Fiction – Tunisia
Arabic [Eng sub]
October 3rd – 17:00
XPOSED Love Letters
– 'Tomorrow Everything Will Be Alright' (2010) by Akram Zaatari
12 min – Fiction – Lebanon
Arabic [Eng sub]
October 4th – 17:00
– 'Letter To My Mother' (2019) by Amin Maher
20 min – Documentary – Iran
Farsi [Eng sub]
October 4th – 17:00
– 'Mondial 2010' (2014) by Roy Dib
19 min – Fiction – Lebanon
Arabic [Eng sub]
October 4th – 17:00
– 'Collage' (2019) by Sadeq Es'haqi
14 min – Fiction – Iran
Farsi [Eng sub]
October 4th – 17:00
– 'The Sea Runs Thru My Veins' (2019) by Zara Zandieh
21 min – Documentary – Germany
German, Farsi [Eng sub]
October 4th – 17:00
RETROSPECTIVE
– 'Lola and Billy The Kid' (1999) by Kutlug Ataman
97 min – Fiction – Germany, Turkey
Turkish, German [Eng sub]
October 3rd – 19:30
– 'Red Chewing Gum' (2000) by Akram Zaatari
11 min – Essay – Lebanon
Arabic [Eng sub]
October 4th – 19:30
– 'Cinema Al Fouad' (1993) by Mohamed Soueid
41 min – Documentary – Lebanon
Arabic [Eng sub]
October 4th – 19:30
PANELS
Queering the Conditions of Film Production
October 3rd – 15:00
Revolting Queers
October 4th – 15:00
For more info about the program and to buy tickets, visit our website:
—