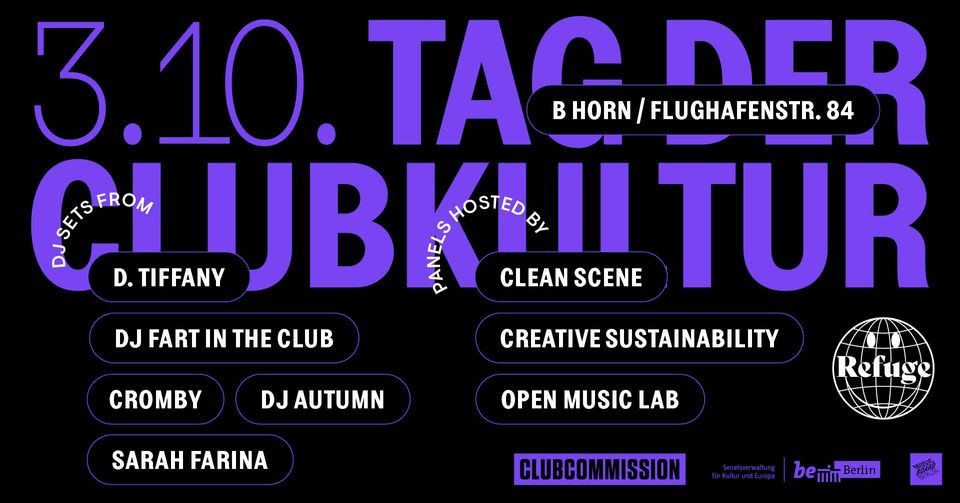 Tag Der Clubkultur: Refuge Worldwide – D. Tiffany, Cromby, DJ Fart In The Club, Sarah Farina
Sets from /
D. Tiffany
DJ Fart in the Club
DJ Autumn
Cromby
Sarah Farina
The Neighbourhood Character
Typhoon Lady
____
Panels hosted by /
Clean Scene
Creative-Sustainability
Open Music Lab
____
– Priority entry: http://bit.ly/tdc_refuge_tickets
**Free Entry all day and night**
(Priority to pre-registration, however we will also be accepting walk-ins on the day)
– PLEASE READ THE HYGIENE PROTOCOL
—————————-
Refuge Worldwide presents a day of live radio broadcasting; DJ sets, panel discussions and talk shows. Streaming live on our new microsite from a pop-up location in Neukölln; serving cocktails, drinks and snacks all day. We will be completely taking over B Horn on Flughafenstr to host this pop-up event, please note this is a **seated event**, we ask everyone to respect distancing.
10% of profits from drink/bar sales will go to International Womxn Space.
Free entry @ B Horn – Flughafenstraße 84, 12049 Berlin
Panel discussions hosted by Clean Scene, Creative Sustainability, Open Music Lab including 'Under Representation & Diversity In Music', 'Social Media; Creativity & Mental Health', 'Climate Emergency & Dance Music'.
DJ sets from Cromby, DJ Fart In The Club, Sarah Farina, DJ Autumn, Typhoon Lady, The Neighbourhood Character, D Tiffany.
Refuge is a fundraising platform working in solidarity with grassroots and non-profit organisations. Refuge Worldwide is our new online home for a diverse range of radio shows, digital media and live music based events. Launching later this year, the station will operate remotely from Berlin Neukölln, combining international and local artists, as well as offering a platform to young and marginalised communities.
—————————-
– Tag Der Clubkultur –
Ein Club ist ein Club ist Intimität ist eine Utopie ist Solidarität ist ein Safer Space ist Alltagsflucht ist eine Vision ist Awareness ist ein Zuhause ist Hedonismus ist ein Mikrokosmos ist Ekstase ist eine Chance.
(A club is a club is intimacy is a utopia is solidarity
is a safer space is escapism is a vision is awareness
is a home is hedonism is a microcosm is ecstasy is an
opportunity.)
Was ist der TDC?
Der TAG DER CLUBKULTUR sendet am 3. Oktober 2020 mit
vielfältigen Showcases in ganz Berlin ein deutliches
Lebenszeichen der Clubkultur. Wir sind noch da!
(What is TDC?)
On October 3, 2020, TAG DER CLUBKULTUR will send a sign
of life for the club culture with diverse showcases all
over Berlin. We're still here!)
—————————-
– Hygiene Protocol –
All customers and staff need to wear a mask, only take it off when sitting at a table and with your group.
Wash your hands as often as possible.
We encourage pre-registration with closecontact.club
Otherwise; registration on the door required:
– First and last name
– Phone number / full address or e-mail address
– Attendance time
– Seat or table number, if applicable
Anyone is waiting outside the bar for a table will be asked to queue 1.5m distance, with clearly marked guidelines on the ground.
Hand sanitiser will be available at the door.
If you feel unwell, please stay home. Anyone breaking the rules will not be permitted entry.
—
Next Event
Date

28 Apr 2023

- 10 Oct 2023

Time

All Day