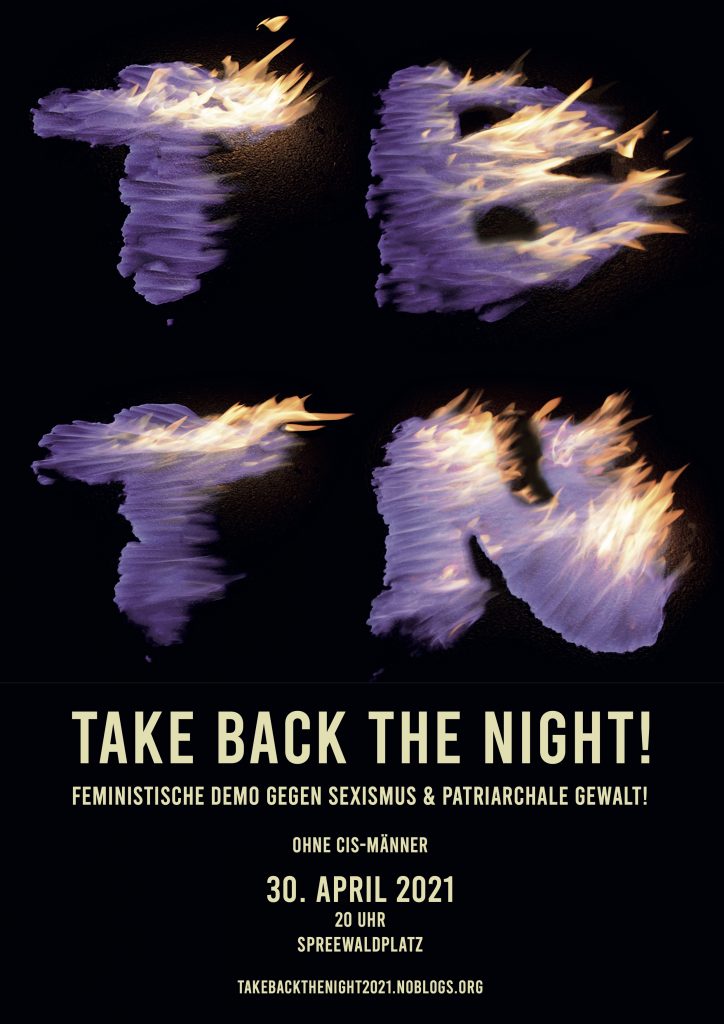 Take back the night – Wir nehmen uns die Nacht zurück
AUFRUF – CALL – DEMO 30.04
Take back the night – Wir nehmen uns die Nacht zurück.
30.04.21 WÜTENDE FEMINSTISCHE DEMO OHNE CIS-MÄNNER IN KREUZBERG
Schon vor 2020 war die Situation aus feministischer Perspektive für viele von uns schlimm. Alltägliche patriarchale Gewalt kennen wir als Frauen, Lesben, nichtbinäre, inter und trans Personen alle, ob nun als Belästigung auf der Straße, als Übergriff im Club oder als Gewalt in der Beziehung. Nach wie vor wird von uns erwartet, den Großteil der sogenannten Sorgearbeit zu übernehmen; gleichzeitig wird diese Arbeit abgewertet, weil sie von uns übernommen und deshalb als weiblich und unproduktiv angesehen wird. Durch Corona wird die Situation nun nur noch schlimmer: eine Studie der Bertelsmann Stiftung zeigt, dass der Anteil der Sorgearbeit im Haushalt, die wir erledigen, wieder wächst. Die vielen von uns, die in den sogenannten "systemrelevanten" Berufen wie Pflege und Erziehung arbeiten, werden nicht nur noch stärker ausgebeutet als vorher, sondern müssen auch konstant riskieren, uns mit Corona anzustecken. Zum anderen sind laut dem Weißen Ring die Anfragen von Betroffenen häuslicher Gewalt um circa 10 Prozent gestiegen, wobei von einer sehr hohen Dunkelzahl ausgegangen wird. Gewalt in Partnerschaften und Femizide nehmen aktuell zu, weil cis Männer auf Krisen und Verunsicherung häufig mit Zorn und Gewalt gegen die Menschen, die ihnen nahe stehen, reagieren. Regeln wie eine Ausgangssperre und die anhaltenden Kontaktbeschränkungen machen es schwer, solchen Situationen zu entfliehen und Hilfe zu organisieren. Und wie die Geschichte zeigt, wird die mit Corona kommende Wirtschaftskrise wird den Angriff auf unsere feministischen Errungenschaften und unsere Art, frei und selbstbestimmt zu leben, nur noch verstärken, während konservative Politiker_innen und Kapitalist_innen versuchen, ihre Machtpositionen zu erhalten.
Aber überall auf der Welt regt sich auch Widerstand: in Polen gehen mutige Feminist:innen gegen das Abtreibungsverbot auf die Straße. In Großbritannien formiert sich eine neue Bewegung rund um den tragischen Mord an Sarah Everard durch einen Bullen und die neuen
Polizeigesetze. In Mexiko besetzte ein feministischer schwarzer Block Gebäude, um sichere Räume zu schaffen. Die Proteste gegen die AKP in der Türkei werden getragen von Feminist_innen, die sich gegen Femizide und eine Regierung, die häusliche Gewalt, Homo- und Transphobie befeuert, wehren.
Wir wollen uns von unseren mutigen Kompliz_innen inspirieren lassen und auch hier unsere Wut und unseren Hass auf eine Gesellschaft, die auf unserer Unterdrückung als Frauen, Lesben, inter, nichtbinäre und trans Personen basiert, auf die Straße tragen. Wir wollen uns von den Bullen, die oft genug nicht nur wegschauen, sondern selbst frauen- und transfeindliche Gewalt ausüben und uns die Liebig34 genommen haben, nichts gefallen lassen. Wir wollen uns die Nächte, in denen cis Männer mit und ohne Uniformen überall in dieser Stadt versuchen, uns den Raum zu nehmen, uns einzuschüchtern, uns zu erniedrigen, zurückholen.
Angelehnt an feministische Traditionen überall in Deutschland werden wir deshalb am 30.04. auf die Straße gehen. Wir wollen die Take Back The Night – Demo zurück nach Berlin bringen, und wir wollen sie als Gelegenheit nutzen, uns nicht nur gegen die antifeministischen Angriffe zu verteidigen, sondern selbst in die Offensive gehen. Wir werden emotional und wütend sein, aber vor allem werden wir eins sein: zusammen und verbunden in unserem Kampf, und so werden wir uns die Straßen und die Nächte und alles, was uns das Patriarchat Tag für Tag nimmt, zurückholen.
*ENGLISH*
Take back the night.
30.04.21 ANGRY FEMINIST DEMO WITHOUT CIS MEN IN KREUZBERG
Even before 2020 the situation from a feminist perspective was bad for many of us. Everyday patriarchal violence is something we as women, lesbians, non-binary, inter and trans people all know, whether as harassment on the street, assault in the club or violence in a relationship. We are still expected to do most of the so-called care work; at the same time, this work is devalued because it is done by us and therefore seen as feminine and unproductive. Corona is now only making the situation worse: a study by the Bertelsmann Foundation shows that the share of household care work that we do is growing again. The many of us who work in the so-called "system-relevant" professions such as care and education are not only being exploited even more than before, but must also constantly risk infecting ourselves with Corona. On the other hand, according to the 'Weißen Ring', inquiries from victims of domestic violence have increased by about 10 percent, with a very high number of unreported cases being assumed. Violence in partnerships and femicides are currently on the rise because cis men often react to crises and insecurity with anger and violence against those close to them. Rules such as a curfew and ongoing contact restrictions make it difficult to escape such situations and organize help. And as history shows, the economic crisis coming with Corona will only intensify the attack on our feminist progress and our way of living freely and self-determined lives as conservative politicians and capitalists try to maintain their positions of power.
But all over the world there is also resistance: in Poland courageous feminists are taking to the streets against the abortion ban. In Great Britain, a new movement is forming around the tragic murder of Sarah Everard by a cop and the new police laws.
In Mexico, a feminist black bloc occupied buildings to create safe spaces. The protests against the AKP in Turkey are carried by feminists who oppose femicide and a government that fuels domestic violence, homophobia and transphobia.
We want to be inspired by our brave accomplices and take to the streets here too our anger and hatred of a society based on our oppression as women, lesbians, inter, non-binary and trans people. We don't want to take any shit from the cops, who often enough not only look the other way, but themselves perpetrate misogynist and transphobic violence and have taken away our Liebig34. We want to take back the nights when cis men with and without uniforms all over this city try to take our space, intimidate us, humiliate us.
Borrowing from feminist traditions all over Germany, we will therefore take to the streets on 04/30. We want to bring the Take Back The Night – Demo back to Berlin, and we want to use it as an opportunity not only to defend ourselves against the anti-feminist attacks, but to go on the offensive ourselves. We will be emotional and angry, but above all we will be one: together and united in our struggle, and so we will take back the streets and the nights and everything that the patriarchy takes from us day after day.
—
More info: https://takebackthenight2021.noblogs.org/post/2021/04/08/aufruf-call-demo-30-04/