NEW BOOK | WE EXIST, WE ARE HERE
International Women Space is happy to announce the launch of our second book: WE EXIST, WE ARE HERE. The book documents the lives and stories of refugee and migrant women in Germany.  The launch date – 25th of November – was intentional: It is the International Day Against Violence Against Women.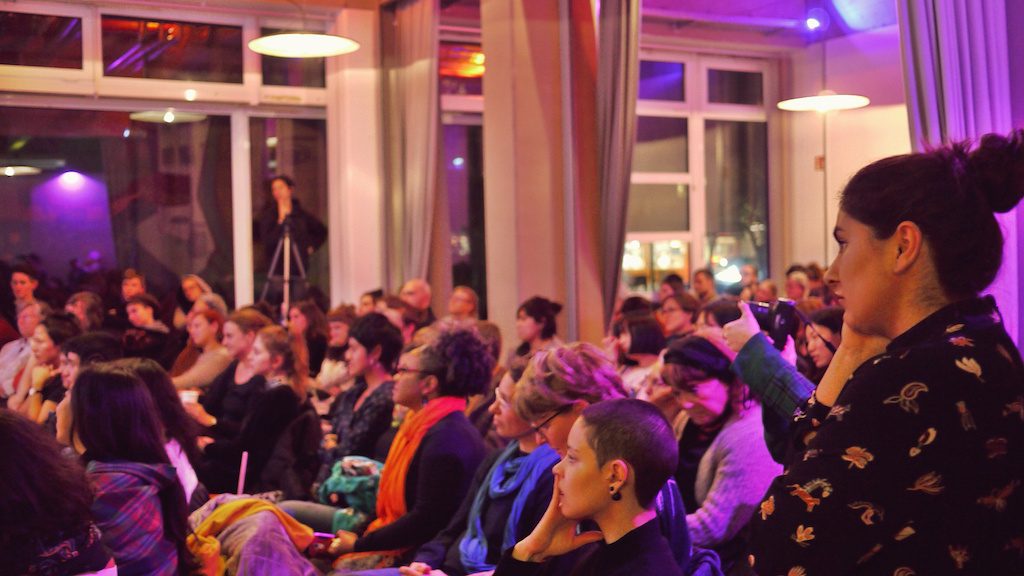 It has taken us three years to complete WE EXIST, WE ARE HERE, a period during which we have seen many changes – both in the political and cultural landscape in Germany and beyond and for us as a group. In 2017 we organised WHEN I CAME TO GERMANY; a two-day conference that centred the experiences of multiple generations of women who have arrived in Germany – as guest workers, as contract workers, or as migrants or refugees – as well the experiences of German women who are affected by racism. We have welcomed more members and found, finally, an office to call our own, after spending many years meeting in different collectively run spaces. Together with many other feminist groups, we formed the Internationalist Feminist Alliance in Berlin.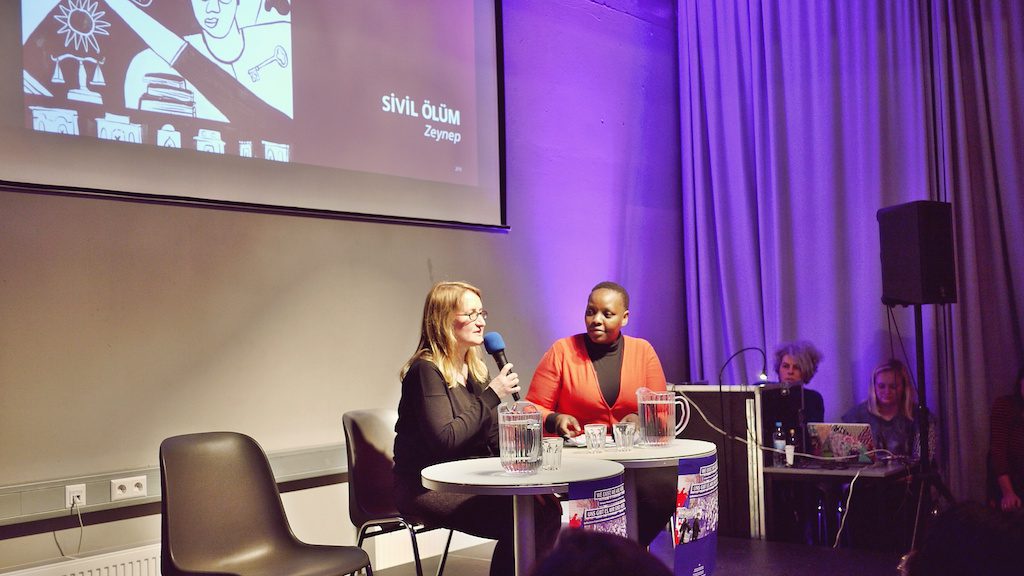 We have met many women with different stories to tell, at times enraging and dispiriting, at times empowering and uplifting. WE EXIST, WE ARE HERE contains eight of these stories. Stories recounting women's experiences of being trafficked through Libya and forced into prostitution; of fleeing state repression and societal oppression in Egypt, Syria and Iran; of being persecuted for academic activism in Turkey, or for drug addiction in Russia; women robbed of their right to self-determination; women who have resisted deportation, and who fight racism and racist structures in Germany every day.
You can find information about ordering / picking up the book here: iwspace.de/we-exist
NEUE VERÖFFENTLICHUNG
UNS GIBT ES, WIR SIND HIER
Der International Women Space freut sich über die Veröffentlichung unseres zweiten Buches UNS GIBT ES, WIR SIND HIER. Das Buch wurde am 25. November 2018 veröffentlicht- dem Internationalen Tag gegen Gewalt an Frauen*. Es dokumentiert die Lebensgeschichten von geflüchteten Frauen und Migrantinnen in Deutschland.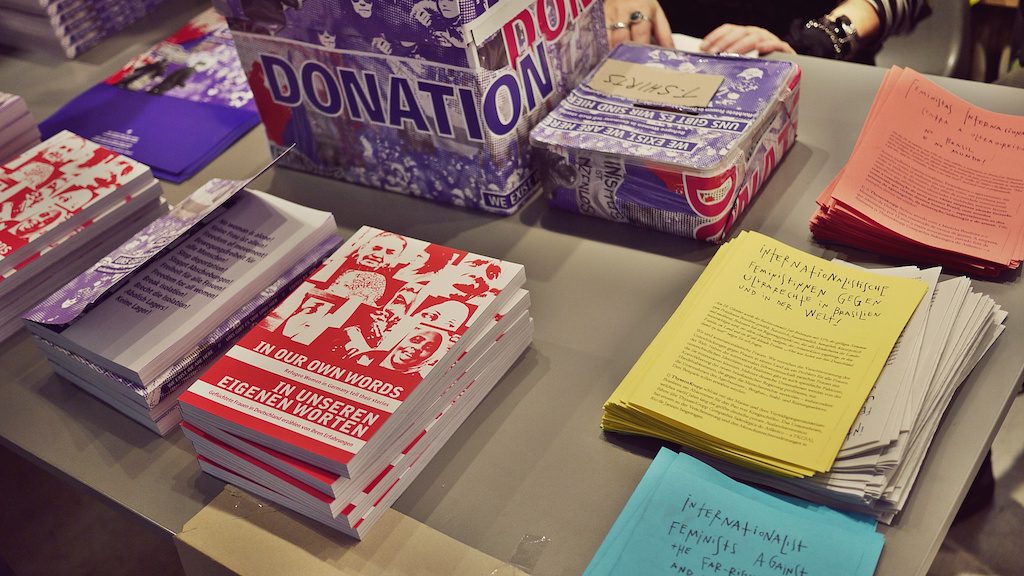 Wir haben drei Jahre gebraucht, um UNS GIBT ES, WIR SIND HIER fertigzustellen – eine Zeit, in der wir viele Veränderungen miterlebt haben – sowohl in der politischen und kulturellen Landschaft in Deutschland und darüber hinaus – und für uns als Gruppe. 2017 organisierten wir ALS ICH NACH DEUTSCHLAND kam; eine zweitägige Konferenz, in der die Erfahrungen mehrerer Generationen von Frauen, die als Gastarbeiterinnen, Vertragsarbeiterinnen oder als Migrantinnen oder geflüchtete Frauen in Deutschland angekommen sind, sowie die Erfahrungen von deutschen Frauen, die von Rassismus betroffenen sind im Mittelpunkt standen. Wir haben mehr Mitglieder gewonnen und endlich ein eigenes Büro gefunden, nachdem wir uns viele Jahre in verschiedenen, gemeinsam betriebenen Räumen getroffen haben. Zusammen mit vielen anderen feministischen Gruppen bildeten wir in Berlin die Alliance of Internationalist Feminists.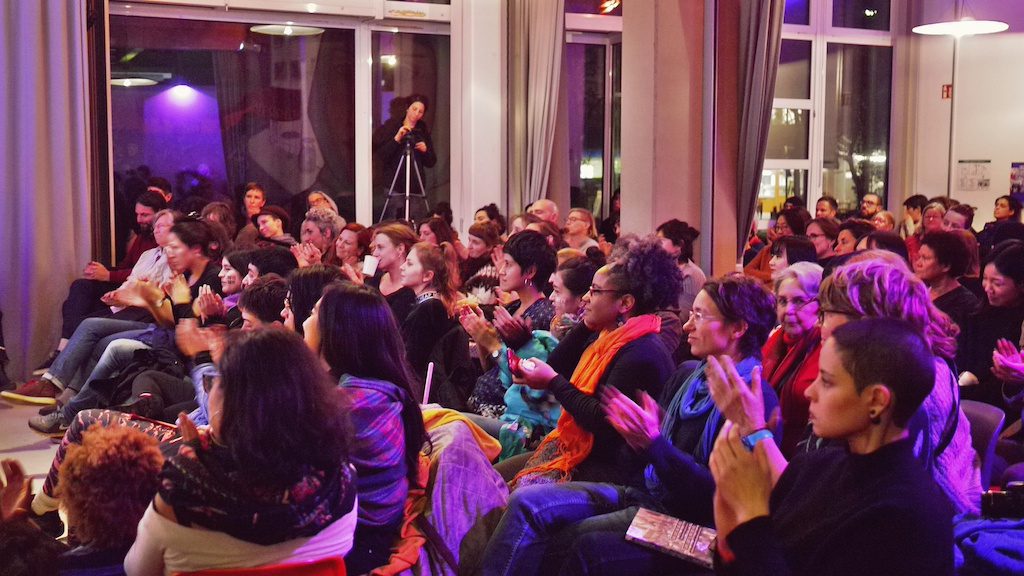 Wir haben viele Frauen und ihre unterschiedlichen Geschichten kennengelernt, manchmal erzürnende und entmutigende, manchmal ermächtigende und aufbauende. UNS GIBT ES, WIR SIND HIER enthält acht dieser Geschichten. Geschichten über die Erfahrungen von Frauen, die in Libyen Opfer von Menschenhandel und zur Prostitution gezwungen wurden; von Flucht vor staatlicher und gesellschaftlicher  Unterdrückung in Ägypten, Syrien und dem Iran; von Verfolgung auf Grund von akademischem Aktivismus in der Türkei oder auf Grund von Drogenabhängigkeit in Russland; Frauen, die ihres Rechts auf Selbstbestimmung beraubt wurden; Frauen, die sich der Abschiebung widersetzt haben und täglich gegen Rassismus und rassistische Strukturen in Deutschland kämpfen.
Infos zur Bestellung bzw. Abholung findet ihr hier: iwspace.de/uns-gibt-es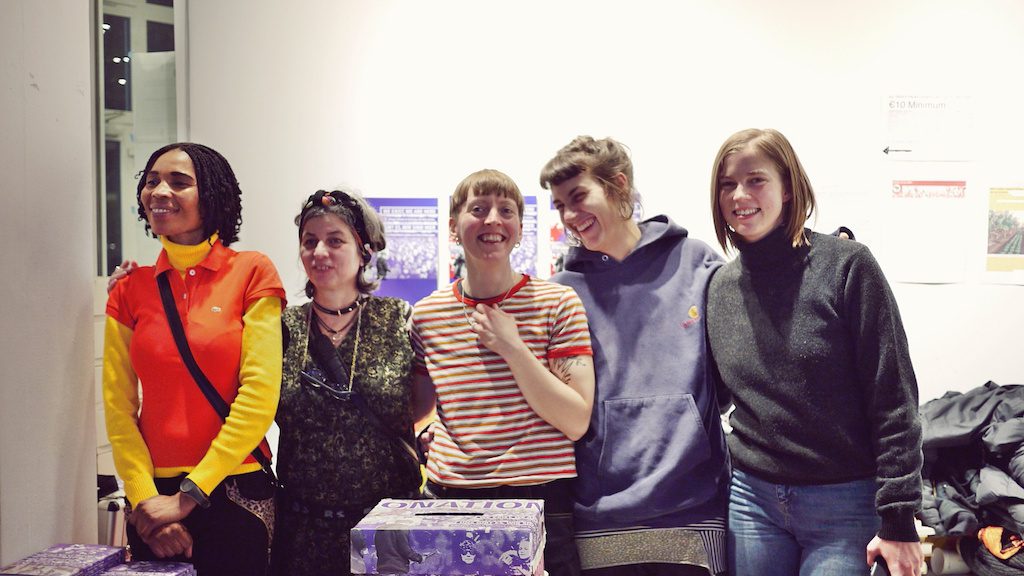 ---
International Women* Space is a feminist, anti-racist political group in Berlin with refugee and migrant women* and non-migrant women* as members.
All author posts