Diana was our guest for the second episode of IWS RADIO: Black Lives Matter! – In The Mediterranean Sea Too. Here you can find out more about her and her work…
Born in Anchorage, Alaska to an immigrant, multicultural version of the Brady Bunch family, Diana Arce (she/her) committed to working as an artist when her law professor intervened, encouraging her to pursue her love for the social sciences through her art. She is an activist and researcher, centering intersectional anti-racist practices in her work creating campaigns, participatory and community engaged art.
Diana teaches, lectures, writes and lead workshops, worldwide, as part of her artistic practice as well as focused on her expertise in activist art, multi-cross cultural representation, and race and gender bias in media, art and tech. She's featured internationally in film, TV, radio, press and online about her work and cohosts the monthly airing radio show Like It Is, about the latest in worldwide anti-facist news through the lens of journalism, activism, and art, on reboot.fm
Her ongoing project White Guilt Clean Up dismantles white privilege and supremacy via providing online and offline services to individuals and groups, while also providing relief, support and empowerment for BIPOCs. She is the creator and founder of Politaoke, the nonpartisan political speech karaoke bar and Director and founder of Artists Without a Cause (AWAC), a non-profit supporting and researching arts and activism.
She's Hampshire College made (BA), has an MFA from the University of Arts, Berlin: Art in Kontext program, and has degrees from the Academy of Rebellion and School for Creative Activism. She's an autodidact constantly looking for ways to improve her work.
She's survived an apartment fire, lived in a commune, traveled internationally as well as multiple times across the continental United States and once shepherded a herd of sheep in Hawaii. Diana is a Black-Latinx-american living in Berlin since 2004.
www.visualosmosis.com | @visualosmosis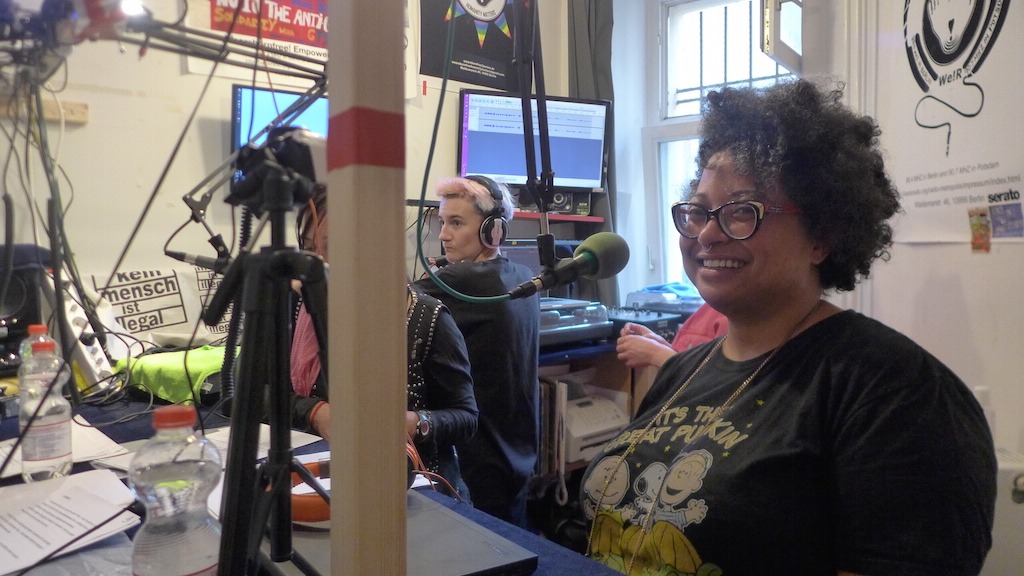 ---
International Women* Space is a feminist, anti-racist political group in Berlin with refugee and migrant women* and non-migrant women* as members.
All author posts