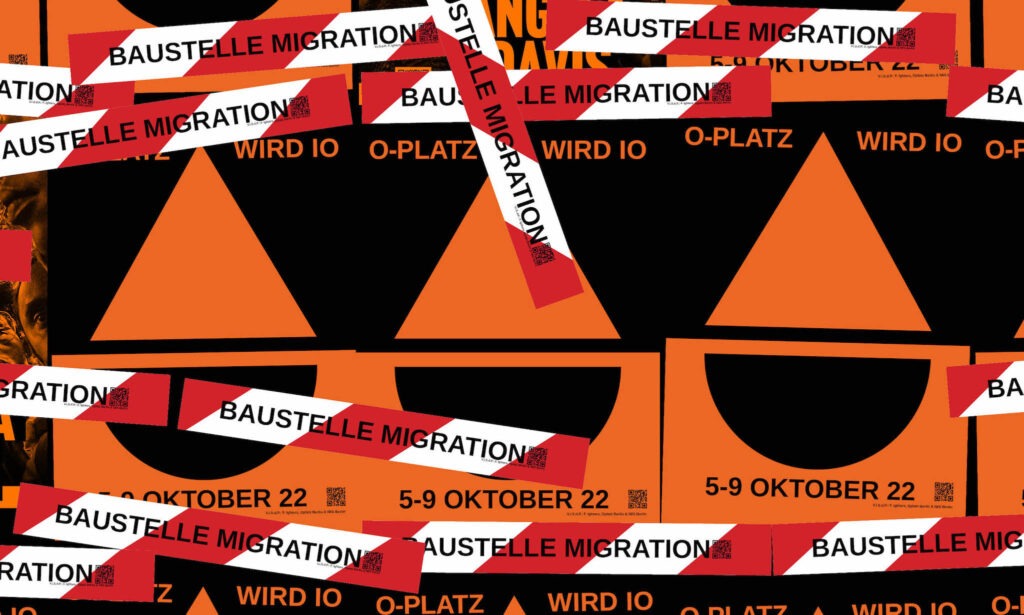 O-Platz wird 10 – Baustelle Migration
Vor 10 Jahren wurde der Oranienplatz und die Gerhart-Hauptmann-Schule von einer Geflüchteten-Bewegung besetzt. Wir, International Women* Space, haben uns aus dieser Bewegung gegründet und wollen das gemeinsam mit euch feiern! Denn ihr seid wichtiger Bestandteil dieser Bewegung und habt großen Anteil, dass Aktivistinnen, Geflüchteten, Migrantinnen, Gruppen und Einzelpersonen gemeinsam Widerstand leisten konnten. Wir wollen erneut alte Mitstreiter*innen zusammenbringen und neue Menschen mobilisieren, um uns gemeinsam an die Kämpfe geflüchteter Personen zu erinnern und unser Bestehen zu zelebrieren. Um reale Veränderung herbeizuführen, benötigt es zudem Zukunftsperspektiven, denen wir kollektivistisch nachgehen werden.
Mit dem Überfall auf die Ukraine kamen hunderttausende Menschen nach Deutschland und wir konnten sehen: Es ist sehr wohl möglich, mühsame bürokratische Prozesse zu umgehen und Menschen den Schutz anzubieten, den sie brauchen. Wir wissen aber auch, dass dieser Schutz nicht allen Geflüchteten eingeräumt wird. Umso wichtiger ist es, am 10-jährigen Jubiläum der Besetzung des O-Platzes daran zu erinnern, dass der daraus entstandene Widerstand immer noch lebt und weiterhin in die Öffentlichkeit getragen werden muss!
SAVE THE DATE: Vom 5. – 9. Oktober findet unsere Veranstaltung auf dem Oranienplatz in Kreuzberg statt. Wir laden euch alle herzlich ein, Teil des Festivals zu sein. Eine Bewegung lässt sich nicht räumen!
Aktivistin Angela Davis wird da sein und unsere Kämpfe vor Ort unterstützen. Freut euch auf spannende Podiumsdiskussionen, Konzerte, Fotoausstellungen, Kunst-Performances, einen Zine-Workshop und vieles mehr! Das detaillierte Programm werden wir in den kommenden Tagen über unseren Instagramkanal und auf oplatz.net veröffentlichen.
Lasst uns zusammenkommen, gemeinsam erinnern, unsere Errungenschaften feiern und über unsere derzeitigen Kämpfe diskutieren. Wir freuen uns auf Euch!
Feministische und solidarische Grüße
International Women* Space
Unser Widerstand lebt. O-Platz lebt.
---
O-Platz turns 10 – Migration Construction Site
Art- und Culture Festival at O-Platz, 5. – 9. October 2022
10 years ago Oranienplatz and Gerhart-Hauptmann-School were occupied by a refugee movement. We, International Women* Space, were founded out of this movement and want to celebrate it together with you! Because you are an important part of this movement and have played a big role that activists, refugees, migrants, groups and individuals could resist together. We want to reunite old and new comrades and mobilise people to remember the struggles of refugees together and celebrate our existence. In order to bring about real change, it also requires future perspectives, which we will pursue collectivistically.
Since the Russian war on Ukraine, we know it is possible to bypass tedious bureaucratic processes and provide people with the protection they need. Now is the time to highlight the developments of the last ten years and the origins of the occupation at Oranienplatz to continue our fight. The 10th anniversary of the occupation of O-Platz is a perfect occasion to celebrate the resistance and to show that we must continue to bring our fights to the public!
From October 5 – 9, our event will take place at Oranienplatz in Kreuzberg. We invite you all to be part of the festival. A movement cannot be evicted!
Activist Angela Davis will be there to support our struggles on the ground. There will also be exciting panel discussions, concerts, photo exhibitions, art performances, a zine workshop and much more! We will publish the detailed program in the coming days via our Instagram channel and on oplatz.net.
Let's come together, remember together, celebrate our achievements and discuss our current struggles. We are looking forward to seeing you!
Feminist and solidarity greetings
International Women* Space
Our resistance is alive. O-Platz is alive.
#oplatzwird10
---
International Women* Space is a feminist, anti-racist political group in Berlin with refugee and migrant women* and non-migrant women* as members.
All author posts