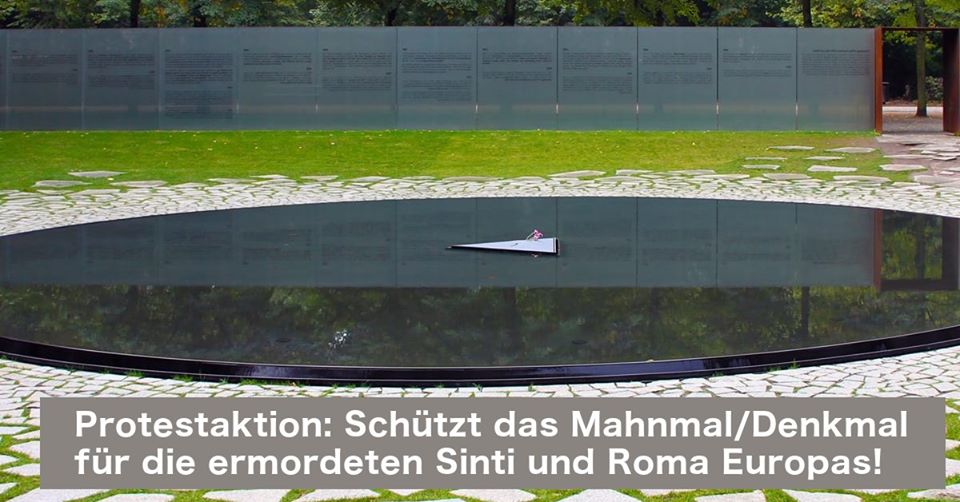 13 Protestaktion:Schützt das Denkmal f. die ermordeten Sinti u Roma
Live-Stream zur Veranstaltung // Live-Stream of the event: https://www.twitch.tv/savespacecologne
Liebe Rom*nja und Sinte*ze, liebe Freund*innen, Mitstreiter*innen,
nur drei Monate, nachdem in Hanau neun Menschen ihr Leben als Opfer von rassistischem Terrorismus ließen und noch mehr verletzt wurden, nur wenige Wochen, nachdem mehrere Rom*nja und Sinte*ze ein weiteres Mal Opfer desselben Gedankengutes wurden, das bereits einmal in der Geschichte Deutschlands, in der Geschichte Europas mehr als einer halben Million Rom*nja und Sinte*ze das Leben kostete, als sie ihren Tod in den Vernichtungslagern fanden und Opfer eines systematischen Genozid wurden, ja, während unsere Tränen noch nicht versiegt sind und unsere Wut noch frisch ist, müssen wir uns bereits gegen den nächsten Angriff auf unsere Würde und Anerkennung wehren.
Unser zentraler Gedenkort, Grabmal der Unbegrabenen – das Mahnmal/Denkmal für die ermordeten Sinte*ze und Rom*nja Europas im Zentrum Berlins ist bedroht. Bedroht ausgerechnet von jenen, die besonders in Verantwortung für die jetzige Gesellschaft und zukünftige Generationen handeln müssten: Der Deutsche Bundestag und die Deutsche Bahn! Nach deren gemeinsamen Plänen soll unser Mahnmal für ein Bauvorhaben – für eine S-Bahn – temporär entfernt oder teilweise gesperrt werden. Die Deutsche Bahn nennt dieses Bauvorhaben "eines der wichtigsten Zukunftsprojekte" für Berlin.
Dieses Mahnmal ist ein Zeichen der kollektiven Erinnerung, es ist ein Zeichen der Gerechtigkeit und es gibt uns ein Stück der Würde zurück, die uns und unseren Familien in den Konzentrationslagern genommen worden ist. Kommt zur Demonstration für unsere Würde und die Forderung nach Respekt für unsere Geschichte der Verfolgung, der Ermordung und des Kampfes für unsere Rechte!
Das Mahnmal in seiner jetzigen Gestaltung bleibt! Wir fordern eine Lösung, die unseren Gedenkort unberührt lässt! Wir rufen das Land Berlin als Bauherrin dazu auf, das Bauvorhaben in dieser Form zu stoppen! Statt einem Abbau fordern wir den Ausbau des Gedenkortes mit einer Informationsstelle und Begleitprogramm! Wir fordern die Transparenz dieser Vorgänge und den Einbezug unserer Zivilgesellschaft!
Opre Rom*nja und Sinte*ze!
Treff: Samstag, 13.6.2020, 15:00 Uhr, Scheidemannstraße vor dem Reichstagsgebäude,11011 Berlin
Schlusskundgebung: Deutsche Bahn AG Konzernzentrale, Potsdamer Platz, Berlin
Bitte tragt eure Mund-Nasen-Masken und achtet auf den Sicherheitsabstand für euch und alle Anwesenden! Danke für die Unterstützung!
#schütztdasDenkmal
—
Dear Rom*nja and Sinte*ze, dear friends* and comrades*,
only three months after nine people in Hanau have lost their lives as victims of racist terrorism and even more were injured, only a few weeks after several Rom*nja and Sinte*ze became victims of the same racist ideas once again, which already once in the history of Germany, in the history of Europe killed more than half a million Rom*nja and Sinte*ze when they found their death in the death camps and became victims of systematic genocide, yes, while our tears have not yet dried up and our anger is still fresh, we already have to defend ourselves against the next attack on our dignity and recognition.
Our central memorial, tomb of the Unburied – the memorial for the murdered Sinte*ze and Rom*nja of Europe in the centre of Berlin is threatened. Threatened, of all people, by those who should act with particular responsibility for the present society and future generations: the German Bundestag and Deutsche Bahn! According to their joint plans, our memorial is to be temporarily removed or partially closed for a construction project – for a suburban railway. Deutsche Bahn calls this construction project "one of the most important future projects" for Berlin.
This memorial is a sign of collective remembrance, it is a sign of justice and it gives us back some of the dignity that was taken from us and our families in the concentration camps. Come to demonstrate our dignity and demand respect for our history of persecution, murder and struggle for our rights!
The memorial in its present form remains! We demand a solution that leaves our memorial untouched! We call upon the state of Berlin as the builder to stop the building project in its present form! Instead of dismantling, we demand the expansion of the memorial with an information point and accompanying program! We demand the transparency of these processes and the involvement of our civil society!
Opre Rom*nja and Sinte*ze!
Meeting: Saturday, 13.6.2020, 15:00 h, Scheidemannstraße in front of the Reichstag building,11011 Berlin
Final rally: Deutsche Bahn AG group headquarters, Potsdamer Platz, Berlin
Please wear your mouth-nose-masks and keep a safe distance for you and all present! Thanks for your support!
#savetheSintiandRomaMemorial
—
Facebook: https://www.facebook.com/events/s/protestaktionschutzt-das-denkm/849251182266449/
Next Event
Date

28 Apr 2023

- 10 Oct 2023

Time

All Day