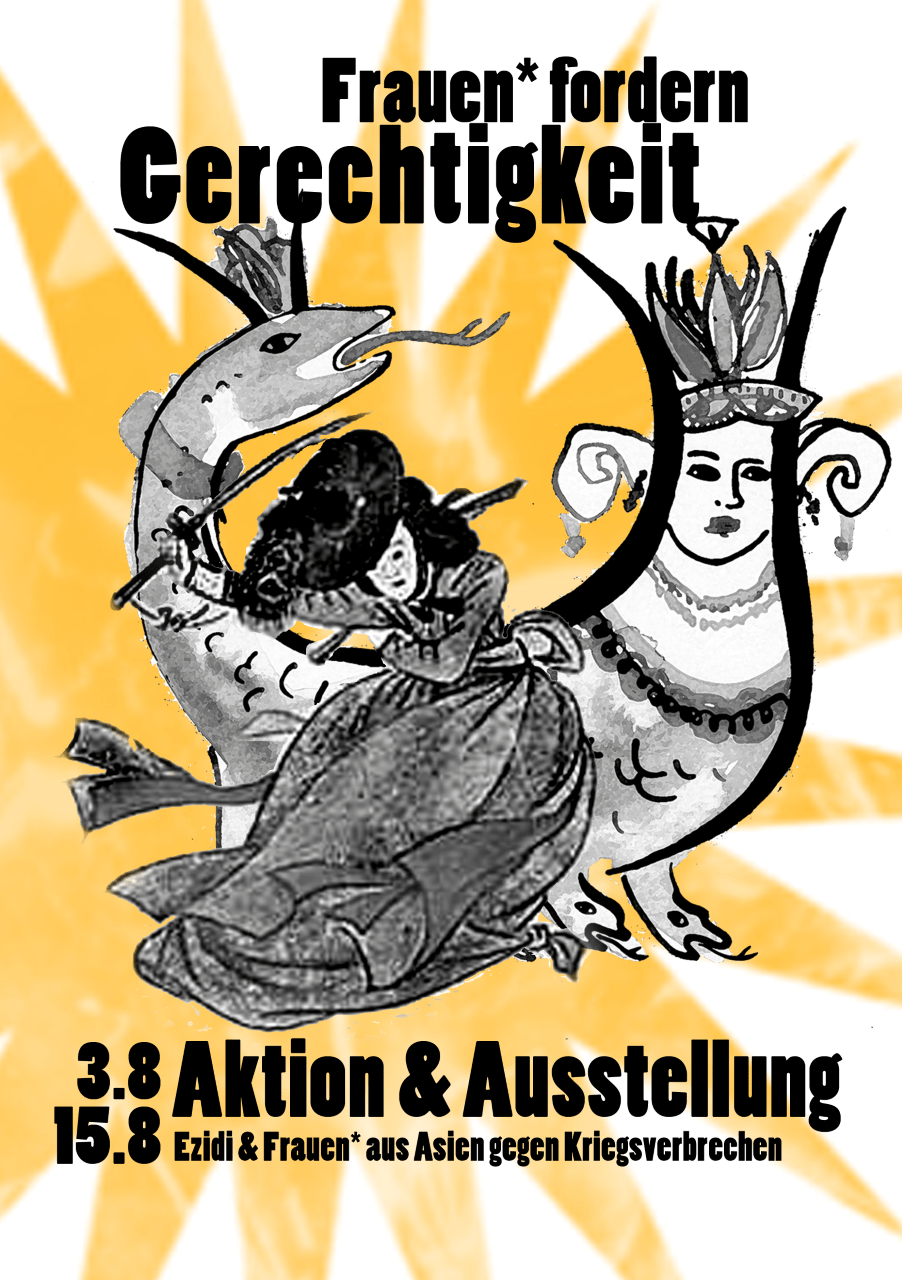 Actionweek 2019 : Against sexualised Violence and Femicide
-Women* Demand Justice against sexualised Violence and Femicide
-여성* 은 성폭력과 여성혐오살인에 대한 정의를 요구한다
-Tekoşîna Xwedawendan Xwebûna Jinê ye
PROGRAM
3.8.2019 – 11am Rally at the Brandenburg Gate
in memory of the genocide of the Ezidi on 03.08.2014
4.8.2019 – 3pm Opening of the exhibition
Museum des Kapitalismus (Köpenicker Str. 172,10997 Berlin)
14.8.2019 – 5pm Rally at the Brandenburg Gate
7th International Day of Remembrance of the "Consolation Women"
15.8.2019 – 6pm Closing event of the exhibition
The international Ezidi Women* Councils condemn the genocide of the Ezidi women and hold the Federal Government accountable. The umbrella organization of the Ezidi Women Councils demands justice after the crimes of the IS committed from the 03.08.2014 onwards.
The AG "Trostfrauen" commemorates the over 200 000 girls* and women* who were sexually enslaved by the Japanese military during the Asia-Pacific War (1937-1945) throughout the Asia-Pacific region.
We demand the recognition of these war crimes, the coming to terms with them and public awareness on sexualised violence. We fight against forgetting so that these crimes are not repeated and denials and banalisation are prevented.
More information on: iwspace.de & trostfrauen.de
https://www.facebook.com/events/334577380817336/
(DEUTSCH)
3.8.2019 – 11:00Uhr Mahnwache zum 5. Jahrestag des Femizid an den Ezidinnen am Brandenburger Tor
4.8.2019 – 18:00Uhr Eröffnung der Ausstellung Museum des Kapitalismus (Köpenicker Str. 172,10997 Berlin)
14.8.2019 – 17:00Uhr Kundgebung am Brandenburger Tor zum 7. Internationalen Gedenktag für die "Trostfrauen"
15.8.2019 – 18:00Uhr Finissage der Ausstellung
Die Internationalen Ezidischen Frauen*räte verurteilen den Genozid an den Ezid*innen und ziehen die Bundesregierung in Rechenschaft. Der Dachverband des Ezidischen Frauenrates fordert Gerechtigkeit für die Ezid*innen nach dem Verbrechen des IS ab dem 03.08.2014.
Die AG "Trostfrauen" gedenkt den über 200.000 Mädchen und Frauen, die vom japanischen Militär während des Asien-Pazifik-Krieges (1937-1945), im gesamten asiatisch-pazifischen Raum sexuell versklavt worden sind.
Wir fordern die Anerkennung dieser Taten als Kriegsverbrechen, die Aufarbeitung und die Aufklärung von sexualisierten Gewalt. Wir kämpfen gegen das Vergessen, damit sich diese Verbrechen nicht wiederholen und Leugnungen sowie Verharmlosungen verhindert werden.
Mehr Infos auf: iwspace.de & trostfrauen.de
https://www.facebook.com/events/334577380817336/