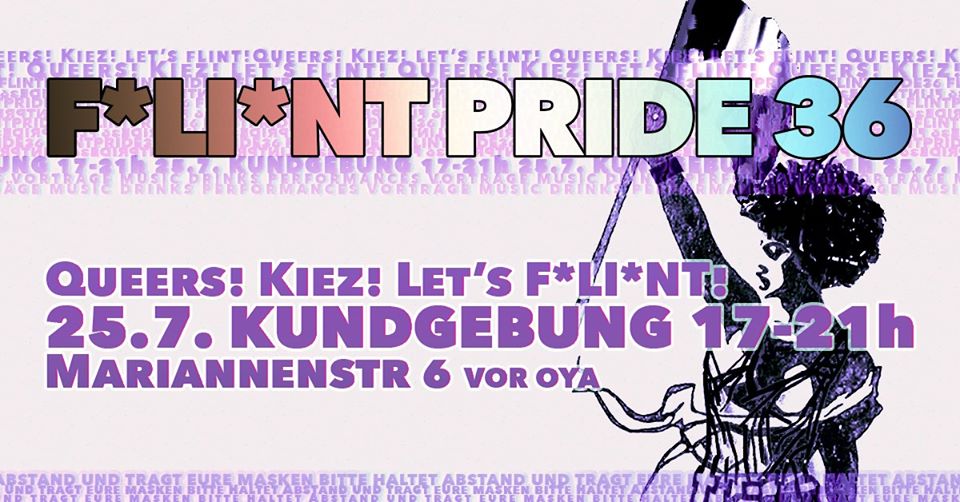 F*LI*NT PRIDE 36 Kundgebung
(PT abaixo/ EN under)
DE
Wir laden euch zu der ersten selbstorganisierten F*LI*NT Pride 36 ein. Queers welcome!
Wir gehen mit unserer radikalen Selbstliebe&Präsenz auf die Straße!
Unser Widerstand richtet sich an institutionellen Rassismus, Rassismus, Trans- und Homofeindlichkeit, Heteronormativität, Polizeigewalt, Faschismus&rechte Strukturen und Kapitalismus überall! Wir sind für trans-queerfeministische Räume, Bündnisse, Liebe, Communities und sozialökonomischen Reichtum!
Kundgebung mit politischen Reden&Performances&Music! Bitte vermummt eure Nase&Mund, Abstand Abstand, seid laut&fresh&glitzer
Let's F*LI*NT ✊✊✊✊️
***
PT
Convidamos a todes para a primeira manifestação autogerida de orgulho F*LI*NT Pride 36.
(F*LI*NT = muheres*, lésbicas, inter*, não binárie e trans)
Vamos tomar as ruas com amor próprio e presença radicais!
No mundo todo resistimos contra o racismo (também institucional),a trans e homofobia, a heteronormatividade, o fascismo e as estruturas de direita, o capitalismo! Somos a favor de espaços feministas trans-queer, de alianças, de amor, de criar comunidades e pela abundância socioeconômica!
Manifestação com falas políticas, performances e música! Por favor, cubra seu nariz e boca, mantenha a distância, sejamos altes e lindes e cheidi gliter!
Bora F*LI*NT ✊✊✊✊️
***
EN
We invite you to the first self-organized F*LI*NT Pride 36
(F*LI*NT = women*,lesbian, inter*,nonbinary, trans)
We take to the streets with our radical self-love and presence!
Our resistance is aimed at institutional racism, racism, trans- and homophobia, hetero-normativity, fascism & right-wing structures and capitalism everywhere! We are for trans-queer feminist spaces, alliances, love, communities and socio-economic wealth!
Rally with political speeches & performances & music! Please cover your nose & mouth, distance distance, be loud & great & glitter
Let's F * LI * NT✊✊✊✊️
Next Event
Date

28 Apr 2023

- 10 Oct 2023

Time

All Day