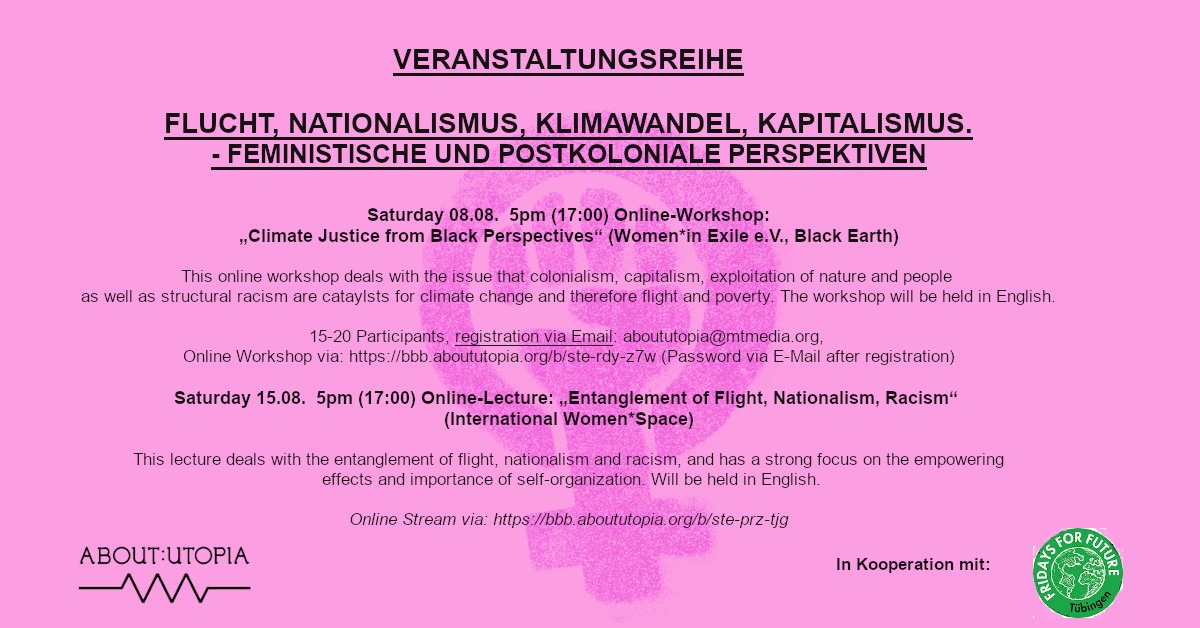 Online-Lecture: Entanglement of Flight, Nationalism, Racism (International Women* Space)
How to create your own future, when even your tomorrow is not secured
To think about utopia is to think about the future. A future we choose, a future we create. But who is free to create this future? Is your utopia my utopia?
In order to create our tomorrows, we need time, energy and resources TODAY. The alternative is to just accept the visions and solutions handed to us by those with more education, more time, more money, less caring responsibilities, better networks, more access to structures.
These structures include nationalist and racist structures. Nationalism and racism are facts of our everyday lives. We will provide some examples of our lived experience and how this affects our future thinking, both in terms of driving it forward but also in limiting our possibilities.
So how do the people who are most affected by these structures get a voice in changing them, and coming through them, to create our own future?
As a partial answer to the challenge we talk about the power of self organisation for migrant women, and challenge participants to think about their own contributions and solidarity.
Online Event via: https://bbb.aboututopia.org/b/ste-prz-tjg
More info: https://aboututopia.org/event/online-lecture-entanglement-of-flight-nationalism-racism-international-womenspace/