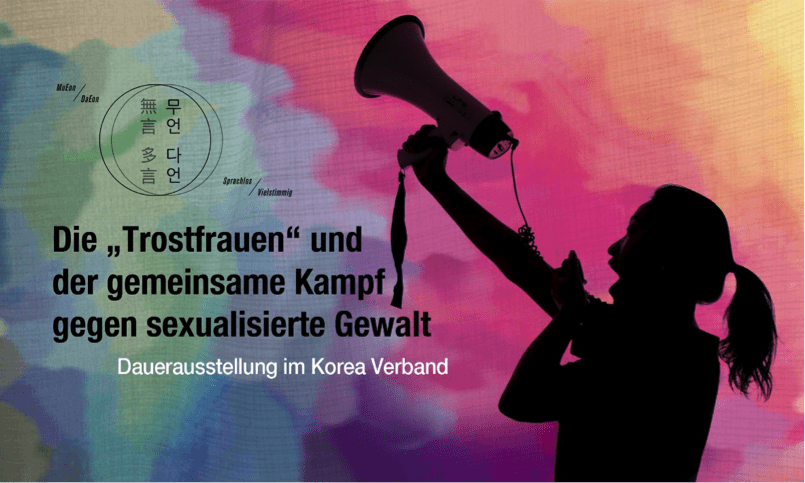 Opening of the Permanent Exhibition/ Dauerstellung im Korea Verband
"Die Dauerausstellung dokumentiert die Kontinuität sexualisierter Gewalt als global immer wiederkehrende Form der Gewalt. Sie thematisiert die Geschichte der "Trostfrauen", der sexuellen Sklaverei durch das japanische Militär im Zweiten Weltkrieg, die Wehrmachts- und Lagerbordelle des NS-Regimes, sowie die Vergewaltigungen von deutschen Frauen durch Soldaten der Alliierten.
Am Beispiel Südkoreas wird veranschaulicht, wie Gewalterfahrungen und koloniales Erbe weitergereicht werden: Vergewaltigungen durch südkoreanische Soldaten im Vietnamkrieg und organisierte Prostitution für US-Soldaten in Militärstützpunkten in Südkorea.
Schließlich werden Wege der Verarbeitung am Beispiel der Ezid*innen nach dem Völkermord von 2014, der Arbeit von Medica Mondiale und unserer Aktivitäten vor Ort aufgezeigt. Zusätzlich zu den dokumentarischen Darstellungen werden auch Kunstwerke wie die "Friedensstatue auf Reisen" und die "Vietnam Pieta" von dem bekannten Künstlerpaar Kim Seo-Kyung und Kim Eun-Sung ausgestellt."
-english-
"The permanent exhibition documents the continuity of sexualized violence as a globally recurring form of violence. They address the history of "comfort women", sexual slavery by the Japanese military in the Second World War, the Wehrmacht and concentration camp brothels of the Nazi regime, as well as the rape of German women by soldiers of the Allied Forces. The example of South Korea illustrates how violent history and the trauma of colonial heritage are passed down in the form of rape committed by South Korean soldiers during the Vietnam War and organized prostitution for US soldiers in South Korean military bases.
Finally, ways of processing, by the example of the Yazidis after the genocide of 2014, the work of Medica Mondiale, and our local activities are presented. In addition to documentary portrayals, works of art such as the "Statue of Peace on Travel" and the "Vietnam Pieta" are exhibited by the well-known artist couple Kim Seo-Kyung and Kim Eun-Sung."
Next Event
Date

28 Apr 2023

- 10 Oct 2023

Time

All Day