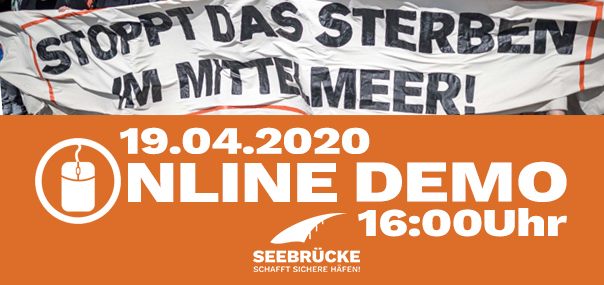 SEEBRÜCKE ONLINE-DEMO: Europäische Lager evakuieren – #leavenoonebehind
+++ENGLISH BELOW+++
+++++Bitte Teilen, gerne kreativ teilnehmen++++
Europäische Lager evakuieren – #leavenoonebehind!
Zweite Seebrücke Online-Demo
Sonntag 19.4., 16–17:30 Uhr
Europäische Lager evakuieren!
Die Bundesregierung hat sich in den letzten Tagen dazu bereit erklärt, 50(!) Minderjährige aus den griechischen Lagern zu evakuieren. Das ist ein Farce, wenn man betrachtet, dass in den Lagern 40.000 Menschen unter menschenunwürdigen Bedingungen festsitzen, die Social Distancing und regelmäßiges Händewaschen unmöglich machen! Angesichts von COVID-19 droht eine Katastrophe, die es dringend zu verhindern gilt! Deswegen werden wir laut sein – diesen Sonntag bei unserer zweiten Online-Demo!
Denn wenn wir im realen Raum nicht zusammen kommen dürfen, um unsere Forderungen deutlich zu machen, müssen wir dies eben auf anderem Wege tun. Deshalb rufen wir euch dazu auf, auf kreative Art und Weise Teil der Demo zu werden! Macht unsere Forderungen rund um #LeaveNoOneBehind im Stadtbild sichtbar. Ob das mit einem Banner aus eurem Fenster oder Kreide auf der Straße ist – eurer Kreativität sind keine Grenzen gesetzt! Schickt uns eure Bilder und Videos und lasst uns zusammen dafür sorgen, dass Europa seiner Verantwortung gerecht wird!
#LeaveNoOneBehind #SaveThemAll #WirHabenPlatz #EuropeMustAct #StayAtHomeDemo
Am 19.04 startet unsere zweite Online-Demo zur Evakuierung der tödlichen Lager auf den griechischen Inseln live auf YouTube: https://www.youtube.com/watch?v=zSIUbNqrpKI
Denn die Situation vor Ort hat sich in keinster Weise verbessert, seitdem wir im März zu Tausenden auf die Straße gegangen sind. Im Gegenteil – durch COVID19 sind die Menschen in den griechischen Lagern einer weiteren, lebensbedrohlichen Gefahr ausgesetzt. Denn alles, was wir hier zum Schutz vor dem Virus tun können, wie Social Distancing oder regelmäßiges Händewaschen, ist in den Lagern unmöglich und #StayAtHome ist nur für jene möglich, die auch ein zu Hause haben!
Das Bundesinnenministerium hat in der letzten Woche stolz die Aufnahme von 50 minderjährigen Menschen aus den unmenschlichen Lagern verkündet! 50 Minderjährige bei über 40.000 Menschen, von denen knapp 14.000 minderjährig sind, viele mit Vorerkrankungen und geschwächt durch die Flucht und die bisherige Zeit in den tödlichen Lagern auf den griechischen Inseln.  Das ist ein absolutes Armutszeugnis und nichts als ein Tropfen auf dem heißen Stein, der nicht dazu beitragen wird, die bei einem flächendeckenden Ausbruch von COVID-19 bevorstehende Katastrophe zu verhindern!
Die CDU und SPD glauben jedoch, dass sie den Protest gegen die unmenschliche Situation in Griechenland mit derartigen Aktionen abspeisen können und wir irgendwann locker lassen. Doch solange noch Menschen in unwürdigen Lagern leben müssen, solange werden wir laut und sichtbar sein. Alle Menschen müssen sofort evakuiert werden!
Neben unzähligen Aktionen die in den letzten Wochen und Monaten stattgefunden haben, wollen wir unseren Unmut und unsere Empörung auch online sichtbar machen und gemeinsam mit euch an die erfolgreiche erste Online-Demo anknüpfen! Was ihr braucht? Zeit, Internet und Wut im Bauch. Sagt euren Freund*innen und Familien bescheid: United we Stream!
#LeaveNooneBehind #humanitätjetzt #EuropeMustAct #SaveThemAll #WirHabenPlatz #ShameOnEU #OpenTheBorders #StayAtHome #StayAtHomeDemo
———————————————
On the 19th of April. we will start our second online demonstration to demand the evacuation of the deathly camps of the Greek island, live on YouTube:
Since we went onto the street with thousands of people in march, the situation on site has in no way improved. On the contrary: with the COVID-19 virus, the people in the Greek camps are exposed to another, life-threatening danger. Because everything we do here to protect ourselves from the virus, like social distancing or frequent hand washing, is impossible in the camps and #StayAtHome is only possible for those, who have a home.
Last week, the Minister of Interior proudly announced the admission of 50 minors from the inhumane camps. 50 minors from over 40.000 people, of which around 14.000 are minors, many with pre-existing conditions and weakened through their journey and their previous time in the deathly camps of the Greek islands.  That is a complete farce and nothing more than a drop in the ocean, that will in no way help to prevent the imminent catastrophe of an outbreak of COVID-19 in the camps!
The CDU and SPD think that they can stop our protest against the inhumane situation in the Greek camps with actions like these. However we will be loud and visible, also long as there are still people in the undignified camps. All people have to be evacuated immediately!
In addition to the countless actions, that have taken place in the last weeks and months, we also want to voice our outrage and anger online and continue the first successful online demonstration, together with you. Safe from infections, live and visible. What do you need? Time, internet and dedication from change. Tell your friends and family: united we stream!