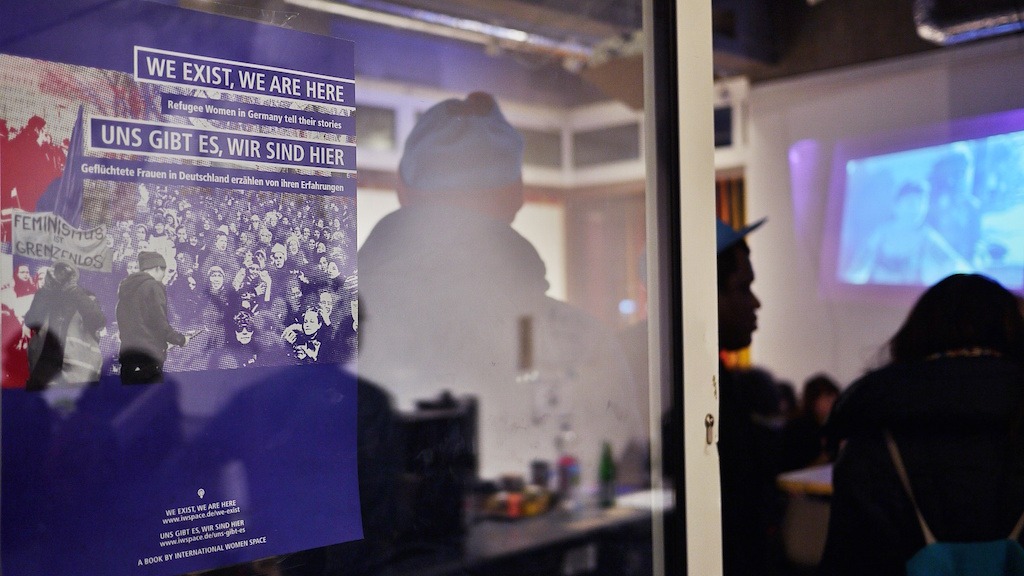 UNS GIBT ES, WIR SIND HIER Lesung @ Autonomes Kiezcafé Leipzig
//////DEUTSCH UNTEN///////
WE EXIST, WE ARE HERE
Refugee women in Germany tell their stories
WE EXIST, WE ARE HERE contains eight stories, at times enraging and dispiriting, at times empowering and uplifting. The stories recount women's experiences of being trafficked through Libya and forced into prostitution; of fleeing state repression and societal oppression in Egypt, Syria and Iran; of being persecuted for academic activism in Turkey, or for drug addiction in Russia; women robbed of their right to self-determination; women who have resisted deportation, and who fight racism and racist structures in Germany every day.
The International Women Space is a Berlin-based, feminist political group, fighting and documenting everyday violence, racism, sexism, patriarchy and all kinds of discrimination.
——————————————————————————————————-
UNS GIBT ES, WIR SIND HIER
Geflüchtete Frauen in Deutschland erzählen von ihren Erfahrungen
UNS GIBT ES, WIR SIND HIER enthält acht Geschichten, die wütend machen und entmutigen, aber genauso Geschichten, die ermächtigen und aufbauen. Geschichten über die Erfahrungen von Frauen, die in Libyen Opfer von Menschenhandel und zur Prostitution gezwungen wurden; von Flucht vor staatlicher und gesellschaftlicher Unterdrückung in Ägypten, Syrien und dem Iran; von Verfolgung auf Grund von akademischem Aktivismus in der Türkei oder auf Grund von Drogenabhängigkeit in Russland; Frauen, die ihres Rechts auf Selbstbestimmung beraubt wurden; Frauen, die sich der Abschiebung widersetzt haben und täglich gegen Rassismus und rassistische Strukturen in Deutschland kämpfen.
Der International Women Space aus Berlin ist eine feministische politische Gruppe, die alltägliche
Gewalt, Rassismus, Sexismus, Patriarchat und alle Formen von Unterdrückung dokumentiert und bekämpft.
Next Event
Date

28 Apr 2023

- 10 Oct 2023

Time

All Day